EQ Reboot Impacts Freshmen
by Richard Paige • April 27, 2018

Share:
A simple reboot of Enduring Questions (EQ) may have impacted students more directly than anticipated.
EQ is a required freshman colloquium offered during the spring semester. The goal is to engage students with fundamental questions of humanity from multiple perspectives while fostering a sense of community.
Over the last few weeks, students in the colloquium have visited the mosque at the Islamic Society of North America in Plainfield, IN, as well as the Hindu Temple of Central Indiana on Indianapolis' east side.
"You can find a lot of middle ground when you make the effort to go and understand things from their perspective," said Jacob Kessler '21, who made the trip to the mosque. "I really enjoyed seeing the community from the inside."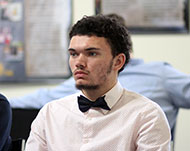 The idea for the visits came from efforts to freshen up the course content. Previously, EQ centered on themes of food and sustainability, but faculty decided to shift the focus to American religious diversity.
Piloted last year by religion and history professor Robert Royalty, new texts have students reading about religious diversity, about problems faced in the legal system, and about the communities they are visiting. The experience of observing the mosque and temple are a cap to the lesson.
"The idea sticks with the spirit of EQ, about living in the world, about community, and whether we're talking about sustainability or religious diversity, we want students to learn more about the community, especially first-year students," said Royalty. "We want them to know what's out there, to get them off campus and think about real practical problems and issues."
The visits lend themselves to differing experiences, as students identify the similarities and differences from their own religious backgrounds. With Islam being one of three Abrahamic religions with its roots in Jerusalem (joining Judaism and Christianity), there are commonalities to the lessons in the Quran and how services begin and end.
Hinduism gives something slightly different. Generally, Hindus see God in everything. They don't see many gods, they see God in many forms. The Hindu Temple in Indiana is unique in that it represents about 20 deities in that single location.
"The reality of getting close like this has the power to help students understand and ultimately to think more carefully and thoughtfully about multiple perspectives," said Michele Pittard, Associate Professor of Educational Studies. "I hope it's the experience of being close that sticks with them."
For the students visiting the mosque, the Islamic Call to Prayer was a thought-provoking moment.
"It was fascinating," Trashan Clemons '21 said. "I enjoyed seeing people from all different backgrounds coming together in harmony. The Call to Prayer reassured me that no matter our differences, we are all meant to live peacefully among one another."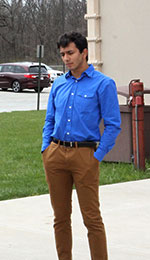 Freshman Daniel Cuevas said the visit to the Hindu Temple had immediate benefits, helping him realize the similarities that reside within different faiths. Getting off campus allowed him to see those similarities much more clearly.
"Many people with different backgrounds or religions actually share a lot of things," he said. "We're all in this together, it's not as separate as people make it seem to be. I was glad to visit and feel a bit more thoughtful and well-rounded because of it."
Observation and contemplation can be powerful tools for students of any age.
"The message of compassion, of peace, of giving, and generosity that we heard today, these are universal themes," said Professor of Psychology Preston Bost. "We're so used to shouting that one of the best ways to grow is to do just what we did today, to sit in quiet contemplation and observation, and to hear what somebody is saying."
More News
---
---
Photo Galleries

Enduring Questions Students April 2018 Islamic and Hindu Field Trips