Mills Says Goodbye with Glass Menagerie
by Jim Amidon • April 17, 2018

Share:
In her final play as a director and theater professor at Wabash College, Jessie Mills tackled Tennessee Williams' semi-autobiographical masterpiece, The Glass Menagerie, which ran nightly through April 18-21 in Ball Theater. Mills, well known for careful attention to the details of movement, space, and timing, will leave the College over the summer to join her husband in Los Angeles, where she will teach at Pomona College.
"There was no way of predicting how this would come about when I selected the show last year," Mills said. "This is a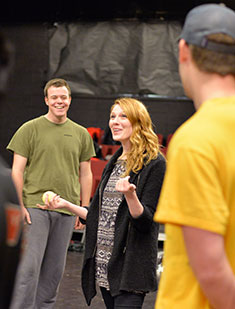 play about saying goodbye to your family, and I couldn't imagine a better way of saying goodbye to Wabash than through this production."
Mills raves about how the tiny cast and considerable design and tech team have bonded as a family. "The cast and crew are astonishing," she said. "It's just an incredible group of performers who are so good to one another. All of the actors are playing against their types; they're playing these deeply flawed, often hurtful characters, but in reality, they are so kind, considerate, and caring that it makes the production that much more heartbreaking."
Williams' career as an author of short stories and as a playwright had not yet caught the attention of the American public when The Glass Menagerie opened in Chicago in 1944. A handful of critics heralded the work, which led to its move to Broadway in 1945. After winning the New York Drama Critics' Circle Award for Best Play, Williams was well on his way to becoming one of America's most acclaimed and respected playwrights.
The plot unfolds through the character of Tom Wingfield, who admits his memory may have faded, as he re-tells the story of his family in Williams' only play that takes place in the winter. Tom works a miserable warehouse job to provide for his single mother, Amanda, and his sister, Laura, but he secretly longs to become a writer.
"The character of Tom, in so many ways, reminds me of the men at Wabash; the way they carry so much on their shoulders; there's so much they have to oblige, so much pressure," Mills said. "And yet Tom is as driven and strong-willed as he is earnest and sensitive, much like our [Wabash] guys."
Tom is played by sophomore Austin Ridley, whom Mills says is borrowing heavily from his acting technique class and is working hard to bring out all of the qualities of the character, which is loosely based on the playwright's own life. "Tom goes through every part of the emotional spectrum during the play — from the greatest joys to the deepest depths of pain, and Austin has figured out how to get to these places. I'm very proud of him."
Amanda is played by Caroline Good, a DePauw University theater professor and costumer. Amanda is Tom's mother, and a sad, faded southern debutante, whose husband long ago left her to raise her two children on her own.
"We really lucked out with Caroline tackling this part, which is very complicated," Mills said, noting that the character of Amanda often makes or breaks a production. "She is amazing in this role."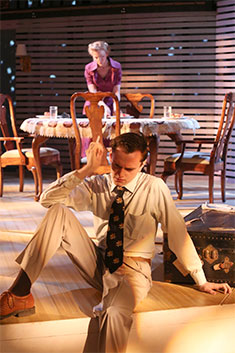 Laura, played by Crawfordsville High School senior Betsy Swift, is Tom's older sister, who limps badly after a childhood bout with polio. But it is her shyness and insecurity that further paralyze her. She finds comfort only in her collection of tiny glass figurines. The audience comes to realize that she is, in fact, more fragile than those tiny glass animals. "Betsy just exudes the vulnerability of the character of Laura, but also shows great strength," Mills said.
Amanda talks endlessly about finding Laura a suitable husband, constantly badgering Tom to invite a "gentleman caller" to dinner. Tom finds a co-worker, Jim O'Connor, played by junior Louis Sinn, and invites him to join the family for dinner. "Louis is such a smart and empathetic person, and his character, Jim, is not really either of these things," Mills said. "Jim could not be less aware of the world around him."
Sophomore Austin Yeomans serves as assistant director to Mills, and contributed a significant theme to the production. "In our very first brainstorming session, Austin mentioned that Tom, being a writer, would be writing all the time, and imagined that he would naturally hate his work and try to rip it up," Mills said. "As this is the only play in William's cannon that takes place in winter, this quickly led to the realization that torn up white paper, when thrown, looks an awful lot like snow."
Senior Johnathan Rodriguez designed all of the costumes under the tutelage of Andrea Bear, and Ian Little "does a phenomenal job" as the stage manager. According to Mills, he nearly single-handedly keeps the show running.
"It's been really hard to work through this being my last play at Wabash," Mills said, coiling up in her office. "I have and will continue to love this place. It's just excruciatingly difficult, and of course I didn't know when selecting this play that, like Tom, this would be my goodbye.
"I have loved the students, my colleagues, and this community; it has been a very special time in my life. The whole team associated with this production has been just exceptional. There are times when theater collaboration really nourishes you, and this is one of those times.
"I suppose it is better, ultimately, to feel like I'm leaving something important behind, and I absolutely feel that way. Sometimes art says exactly what you need it to say better than you could articulate it yourself."
More News
---
---
Photo Galleries

The Glass Menagerie - 2