18th Celebration of Student Research Set for Friday
by Christina Egbert • January 24, 2018

Share:
The Celebration of Student Research is one of those Wabash traditions that can be explained but truly needs to be experienced.
That's what Visiting Assistant Professor of English Andrew Klein and Visiting Assistant Professor of Political Science Lorraine McCrary found out when they walked into Detchon International Hall this time last year for their first Celebration of Student Research.
"I was most impressed by the active participation by both students and faculty and their enthusiasm," McCrary remembered. "The rooms and halls were crowded – it really was a celebration!"
Since 2001, the Wabash College community has gathered the last Friday afternoon of January to share in the work of Wabash students at the Celebration of Student Research, Scholarship, and Creative Work. Afternoon classes are canceled to give everyone the chance to attend.
"Our goal is to recognize in a proud and public way the creative accomplishments of Wabash students," Dean of the College Scott Feller said. "When the Celebration began, I thought of it in terms of benefiting the individual students who present, for example that they would polish their presentation skills and develop a deeper understanding of their projects by explaining it to others.
"Now I think of it much more in terms of how it benefits the entire Wabash community to have an afternoon to celebrate student-faculty collaboration as an example of what we value at the College."
As Klein walked around Detchon Hall last year listening to students' poster presentations, he recognized the effectiveness of Wabash's model of working closely with students and solidified his belief that undergraduate students have the potential to be young scholars.
"Traditionally humanists, especially those dedicated to literary study, find it difficult to communicate their research in a poster or display," Klein said, "so I was happy to see a number of my students, some of whom wrote brilliant papers on, say, H.P. Lovecraft's use of the uncanny, presenting research on topics as varied as honey bees and racial segregation."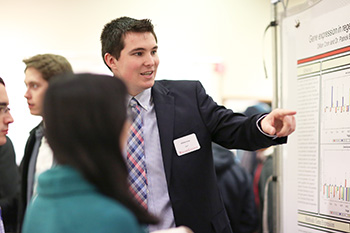 This year, 80 students will present 28 talks and 33 posters.
Oral presentations will begin at 1:30 p.m. and continue every 20 minutes with a ten-minute break at 2:30 p.m. The last sessions begin at 3:20 p.m. In general, students will present information for 12-15 minutes with a few minutes for questions and passing time.
Poster presentations will begin in Detchon Hall beginning at 1 p.m. Students will present and discuss their posters and exhibits in 90-minute increments.
The full schedule of presentations can be found at https://www.wabash.edu/ugresearch/docs/2018_Celebration_Program.pdf.
Prior to this year's event, the Celebration Committee announced the winners of two awards associated with the Wabash tradition: The Celebration Research, Scholarship, and Creativity Award, and the Robert Wedgeworth Research, Scholarship, and Creativity Awards.
The Celebration Research, Scholarship and Creativity Awards are prizes awarded to the students who most effectively articulated their gains in professional development and personal growth as a result of their research, scholarship, or creative work. This year's winners are listed below, in alphabetical order.
Miguel Aguirre: Determining the Signal Detection Range of Acoustic Sensors in Open Coastal Habitats
Tung Bui: Would Attributions Help to Alleviate the Envious Emotion?
Nathan Muha: Translating Memory: The Midwestern Opera Project
The Robert Wedgeworth Research, Scholarship and Creativity Awards are prizes that are awarded to recognize effective use of library resources in the preparation of Celebration work. This year's winners are listed below, in alphabetical order.
Jared Cottingham: Do Not Resuscitate
Erich Lange: Political Activism as a Component of Religious Commitment: Reflections from a Nazi Prison
Christopher Roman: The Portrayal of Radicalized Individuals in US Media