The Confidence to Jump
by Christina Egbert • October 20, 2017

Share: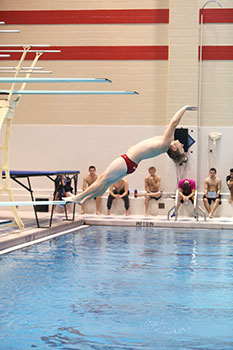 Zach Kintz '20 makes his way to the edge of the springboard in the Class of 1950 Natatorium. Though his teammates and the divers from Albion look on, once he's in position, everything else is zoned out. It's just him, the board, and the water meters below him. He's 100 percent in control of the dive he's about to make.
He takes a deep breath and jumps.
His head pops up out of the water. The excited screams coming from his teammates make the smile on his face even bigger, and he's greeted with a hug from his coach as he climbs out of the pool.
He just completed his first competitive dive. Ever.
----------------
Rewind to a few weeks earlier, when, not only had Kintz never completed a dive in a competition, he had never completed a dive in his life.
The Fort Wayne native was recruited to play Wabash baseball, but after just one semester, he felt it wasn't the place for him. It was the first time he can remember not being involved in some type of sport, so, this year, his friends on the swimming and diving team decided to get involved.
"Right before swim season started," Kintz said, "Kyle Louks asked, 'Why don't you just dive?'"
Shocked at the suggestion, Kintz didn't really know what to say.
So Louks '19 continued. "Can you touch your toes?"
Kintz bent over and touched his toes.
"Dude," Louks said, "you can dive."
However, Kintz instead decided to ask swimming coach Brent Noble if he could be a manager.
"I asked him what his main motivator was, and he said he really just wanted to be part of something else on campus," Noble said. "He came to every practice the first two weeks and did whatever was asked of him, but sometimes there just wasn't much to do."
Wabash saw a lot of success last season with the record-setting dives of Aaron Embree '19 and Max Von Deylen '19. However, with both studying abroad this season, John Lang '18 was the team's lone diver. Having only one diver meant the team would be leaving points at the table at every meet.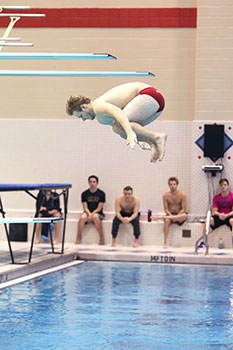 During one of those practices, Kintz was sitting on the pool deck doing his homework when Noble walked up to him and asked if he was the type of guy who takes risks.
Before he had time to think about it, Kintz was headed to his dorm room to grab some swim trunks and then practicing diving basics on a trampoline.
Within the next two weeks, he learned six dives, some from diving coach Wayne Applegate and others completely by himself.
"I'm going so fast," Kintz said. "I've always been a quick learner, but this is something I've never done before. It's a lot to take in, and it keeps me up at night. I'll be lying in bed just thinking about my dives, what I can do better or about technique. It's the weirdest thing ever, going from a baseball player to a diver. I think about that every day."
"Diving requires a rare fearlessness, and Zach either has it or fakes it well," Noble said. "His attitude is consistently positive, and it's been fun to watch him work so enthusiastically and progress so quickly."
While Kintz admitted there was a lot of technical elements to diving he was not prepared for, once he understood those concepts, the rest was confidence.
"A lot of it's mental," he said. "I know the technique. I just have to tell myself I'm confident enough to do it. You can't dive emotionally or start thinking about things because you're going to flop, and it's going to hurt, which it does!"
Even though he knew what he was doing, competing in the team's first meet against Albion, when he had never attended a swim meet before, with six dives he had just learned still seemed pretty crazy to him.
A few days before the meet, he told Coach Applegate he'd prefer to sit out the first meet – just watch how it all works.
Coach Applegate wouldn't let him off the hook that easily, and that's when the reality of what he was about to do sank in.
"Thursday and Friday I was very nervous," Kintz said. "I couldn't sleep. You can complete five dives and fail the sixth, but I wanted to complete all six. Saturday comes along, and I wake up and go straight to the deck. I was there at 10 a.m. and the meet started at 1 p.m. I had headphones in with music playing, I stretched, and I was on the board practicing before Albion came. I didn't even eat I was so nervous."
Waiting was the worst part for him. He watched his teammates take part in several swimming events before it was time for the divers to compete.
Finally, it was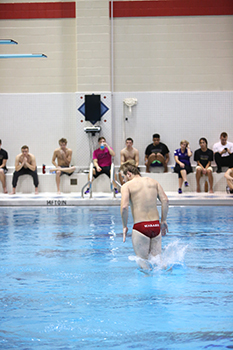 their turn. Kintz had a goal of earning at least 100 points. He finished with a total of 122.
"That was awesome," he said. "I thought I'd be up there jittery and that my dives would be terrible. But it wasn't, given my situation."
Kintz knows he's probably not going to be the next Aaron Embree or Max Von Deylen. In fact, he and Lang call themselves the "Great Value" divers because they're nowhere close to accomplishing the scores set last year. But that doesn't bother them.
"We just have fun with it," Kintz said. "I realize I'm not going to be an Olympic diver (like the ones they will face at Purdue this weekend). I mean, eventually, I could set school records – I don't know. But I'm having fun up there and doing the best I can at the moment."