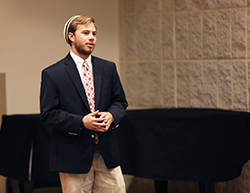 The state of Indiana recently celebrated its Bicentennial, but there are issues that Hoosiers face every day that need solutions.
Through the theme, "Improving Indiana," the three finalists of the 143rd Baldwin Oratorical contest were asked to do just that on Wednesday. The students had to identify a problem, persuade the judges as to why it's a problem, and offer tangible solutions.
Andrew Powell '17 came out on top with his speech, "Combating Obesity," while Jacob Helmer '19, who spoke on "Concussions in Youth Football," and David Mason '18, who argued "An Irresponsible Diversion: The Choice Scholarship Program," finished in second and third places, respectively.
"It's really exciting to join the list of people in the lobby," Powell said, referring to the list of past winners on the Baldwin plaque in the Ball Theater lobby. "It's an incredible honor to be selected. The faculty and staff have been so helpful in working with me and getting my speech to be as good as it could be, and I'm really thankful to everyone who helped and to the Baldwin family for the endowment and keeping this tradition going strong."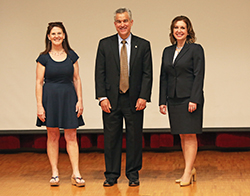 The three judges for the evening were connected in various ways to civic engagement and public service in their daily lives: Kelly Mitchell, Treasurer for the state of Indiana; Joshua Minkler '85, U.S. Attorney; and Susan Albrecht, Crawfordsville Community School Corporation Board Vice President and Wabash College Graduate Fellowship Advisor and Media Acquisition Manager.
"All of the speakers were wonderful," Minkler said. "I see a lot of people who speak persuasively for a living and get paid a lot of money to do it, and this was really high-caliber. It was as good as anything I've seen."
Powell argued in his contest-winning speech that the education children receive about healthy living habits will eventually reach their parents. One of the best ways to help Hoosier children, he said, is through after-school enrichment programs, such as 4-H.
A 10-year 4-H veteran himself, Powell knows that similar programs often have the necessary curriculum, but not enough volunteers. He asked the audience to consider volunteering with any type of after-school program in order to help our children's health, which will, in turn, help our state's overall well-being and economy.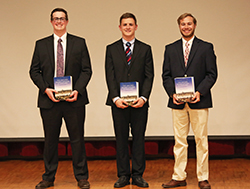 "It was clearly a topic he was really passionate about, which I think is important in a persuasive speech, and that really showed through," Albrecht said while presenting the first place award. "And the civic engagement piece was well thought out. He gave concrete suggestions as to the steps we can take to take care of the problem one piece at a time."
The Wabash College Baldwin Oratorical Contest began in 1873 as a gift from the late D.P. Baldwin, a longtime trustee of the College, endowed an award to be given each year to the three Wabash students who "compose and pronounce the best orations." In its 143rd year, the event is the oldest continuous public speaking contest west of the Alleghenies.
As was the case in 1873, each of this year's finalists received a cash award and the complete works of William Shakespeare.