Stirred With A Smile
by Christina Franks • December 16, 2016

Share: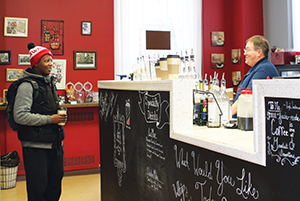 The echo of the grinding fills the small space and spills out into Lilly Library.
Inside, the light hum of small-talk conversations crescendos into laughter as paths cross for the first time in a while.
Top it off with the swoosh of a little whipped cream and, all of a sudden, the day is a little brighter than before.
These are the sounds that keep Wabash College going – day in and day out.
That small space is home to 1832 Brew, a small coffee shop that has been more than a place for coffee, chocolate, and conversation for seven years but often also a saving grace for students.
Student John Wagner '20 put it this way:
"On a scale of 1-10, if I had to rank the importance of 1832 Brew to myself as well as all other students, I would give it about a 15."
In 2009, Good to Go Xpresso opened inside of Lilly Library after students indicated that a campus coffee shop would be beneficial to their time at Wabash. This shop was the second Good to Go Xpresso Location for owners Kurt and Sharon Conklin, who opened a first location on the south side of Crawfordsville.
The next year, ownership was transferred to Logan and Ashley Kemp, who were familiar faces on campus. The couple had both spent time at Sparks Center and Bon Appétit, and Ashley had worked for the Good to Go campus location.
When ownership changed, so did the name. The Kemps wanted to make the coffee shop more Wabash specific, so students were given the opportunity to vote and decided on 1832 Brew.
"1832 Brew is a crucial cornerstone for our campus," Zack King '17 said. "It truly helps myself and others get through the early mornings and late nights. I always look forward to going for a pleasant coffee shop experience and the staff is always helpful."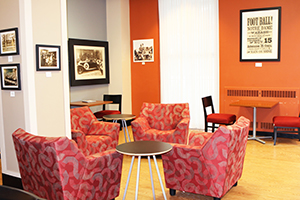 Today, the coffee shop has expanded into more of an experience. A lounge is located outside of 1832 Brew, complete with chairs, tables, and working space available for everyone on campus. It has become a meeting place, a quiet getaway, and even a nontraditional classroom.
"I appreciate having the 1832 Brew available as a welcoming place to visit in the heart of the campus," Director of International Programs Amy Weir said. "I've met study abroad providers at the 1832 Brew while they pitched to me the highlights of their programs, and I've invited employers to join one of the Career Services' 'Coffee & Careers' sessions. I think the 1832 Brew space is a wonderful place to bring those who aren't familiar with the campus to get an idea of what our students are like and how faculty, staff, and alumni interact with them."
As cozy as it can be, it can get crowded quickly. Finals week is always one of the busiest times at the Brew, as well as during dead week and midterms. The business went through 15 gallons of coffee a day this past week, and that does not include hot chocolate, another hot commodity on campus.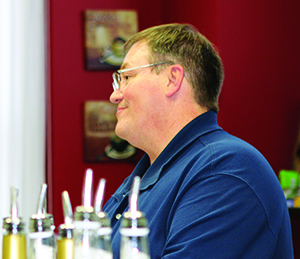 When students walk into the Brew, no matter how busy it is, they are always greeted by Byron Lehr's friendly face.
Lehr, who is now the majority owner of the Brew, is Ashley Kemp's father and has been directly involved with the coffee shop for four and a half years. He is always good for a warm conversation while he's making a customer's hot coffee or hot chocolate, and has become almost as popular as what he serves.
"My favorite part is chatting with Byron about anything and everything as he makes my latest creation," Trace Bulger '19 said. "He and I have created drinks from a peach cobbler smoothie to an apple pie latte and even a pretty damn good imitation of the Harry Potter (non-alcoholic) butter beer. Not only are the beverage services top notch, but the Brew is a friendly, cozy corner to meet with teachers, classmates, and friends."
And sometime the pick-me-up students need doesn't come from the caffeine they purchase.
"It's nice to have the Brew on campus because it gives me some time to step away from my homework or studying," Stephan Jones '17 said. "Also, it's always a good time when I get to chat with Byron; his positive attitude always changes mine, so it's very refreshing to have him on campus."
That's Byron's goal each time a customer strolls through his doors. Whether it's a student, a professor, or a staff member, his goal is to simply make them happier than when they walked in.
"When they walk out with a smile, I know I did a good job."