Pactor New Career Center Director
• December 6, 2016

Share:
Wabash College President Gregory Hess has announced the appointment of Jacob S. Pactor as the Director of the Schroeder Center for Career Development. Pactor, a 2004 graduate of Wabash, will begin his leadership of the Career Center on January 3, 2017.
"Jacob was extremely impressive during the recruitment process," said Dean for Professional Development Steven Jones. "He effectively communicated and demonstrated the organizational, communication, and relationship-building skills, which are critical to this position. He will be a strong addition to the Career Services Team."
Pactor earned a certificate in nonprofit management from Indiana University, a master's degree in English from Butler University, and an MBA from the University of Indianapolis.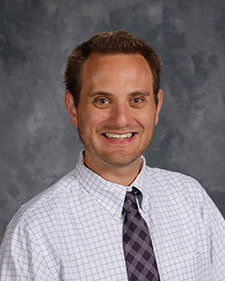 "Being Director of Career Services at Wabash is an amazing opportunity to support 900 students continue to discover who they are and how their passions can lead to fulfilling careers," Pactor said. "We're going to make the argument that being a scholar of the liberal arts and an engaged citizen is the unique professionalism we bring to our communities and our lives — that who we are inspires what we do, and what we do becomes who we are."
Pactor comes to Wabash after spending five years as an English teacher at Speedway High School and was Chair and Director of the Drama Department. He also serves as the Teacher in Residence for Teach Plus. He previously taught at Lawrence Central, North Central, and Warren Central high schools in Indianapolis.
In 2009, Pactor stepped away from teaching to work at City Year Chicago, where he served as the Civic Engagement Manager. In that position he led a five-person team, engaged 2,100 volunteers, managed 10 different projects, and led the "Illinois Dome Day" that brought together workers and volunteers of 15 organizations.
"Jacob understands the challenges undergraduates face in transitioning from high school to college, and he knows the importance of creating immersive learning experiences — internships, externships, and travel — for students before they graduate," Jones added.
Pactor has served Wabash as a Class Agent, and he is a four-time recipient of the Outstanding Class Agent award. He is also a former member of the Board of Directors of the National Association of Wabash Men.
Wabash boasts nationally ranked career development programs. The Princeton Review rated Wabash's Schroeder Center the 8th best career center, and Wabash's internship program and alumni network are both ranked in the top-10 nationally.
"I am excited to work with students and the College community," Pactor added. "I'm excited to introduce employers to Wabash men and help Wabash men open doors to different opportunities. And I am excited to join the Schroeder Center team that already has been doing this important work."