A Staged Experience
by Christina Franks • November 16, 2016

Share:
The Wabash College Theatre Department shines the spotlight on drama, romance, traditions and even a Greek Chorus during this year's Studio One-Acts.
The two productions, Tom, Gary and the Woman and Canoe: A Greek Play, will be performed at 8:30 p.m. Wednesday and Thursday at the Experimental Theater. Both shows are directed and performed by Wabash students.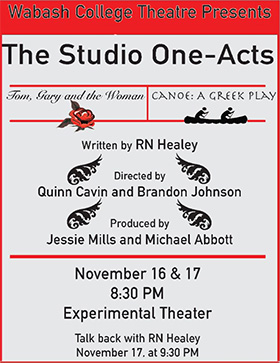 Tom, Gary and the Woman, directed by Quinn Cavin '19, is a drama centered on romanticism and lies. Far too often, people lie to themselves about their desires, making them out to be more than they are. Tom and Gary struggle over the same superficial woman as it destroys their friendship and happiness. Tensions rise as both characters resist forsaking their former lover, even if it costs them everything.
"My actors have been the greatest blessing of this process," Cavin said. "They're unbelievably talented and incredibly hardworking. Watching them grow as actors and people is definitely the most rewarding part."
Tom, Gary and the Woman stars Wabash students Will Maloney '19 as Tom and Ashton Faramelli '17 as Gary. It also features Bilal Jawed '17, Austin Ridley '20, Jaleel Grandberry '19, PJ Mays '19, Sam Stephenson '20, and Jonathan Montoya '18.
Cavin said this experience given him a new appreciation for the difficulties that come with direction and the amount of work it takes to organize a production. And it is those kinds of lessons that cannot truly be learned in a classroom.
"Getting students integrated into theatre is best done through experiences," Cavin said. "No one has ever learned how to direct or act by sitting in a desk. These skills are learned by performing in shows and creating theatre for a live audience."
Canoe: A Greek Play, directed by Brandon Johnson '19, ?is an ensemble piece revolving around identity and tradition, both on a personal and a societal level. It focuses on two diametrically opposed characters who are put in a situation where they have to come together, accompanied by a cast of enigmatic characters, all watched over by a Chorus of Greeks.
"This is one of the few opportunities where students on campus get to showcase their skills in theater outside of acting," Johnson said. "It allows people who have no basis in acting to star in a show and for a budding director to take charge of a production."
Starring in this production are students Ian Little '20, Noah Janssen '20, Daniel Scofield '17, Nolan Fenwick '16, Free Kashon '17, Thomas Allgood '17, Austin Yeomans '20 and Preston Mays '19.
Similar to Cavin, this production gave Johnson a chance to try out his directing skills while only a sophomore.
"Directing these shows teaches how to bring a group together and create something real, just from words on a page," Johnson said. "One of the things I am proudest of in this production is my cast. A lot of them had little experience in acting, but they were all highly motivated and began to care about making this show as much as I did. It became a lot more than just a class project."
Tickets are not required for either Wednesday or Thursday's Studio One-Acts. Viewer discretion is advised. Language and alcohol references are made.