Trekking Through Turkey: Heading Home
by Justin Lyon, Todd Vogel • March 20, 2003

Share: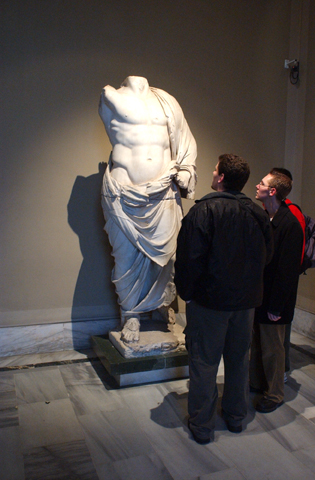 Wabash men at a museum in Istanbul
Director of New Media Justin Lyon and photographer Todd Vogel '04 accompanied a Wabash College religion class on a tour of Western Turkey, where the class studied ancient Christian sites. The class will build a virtual archive of their research findings. The following is an excerpt from Lyon's last journal entry and photos from Vogel.
Prostitutes and drunken debauchery may be why some men visit Istanbul, but Wabash gentleman found more elevated pursuits with which to fill their time.
The first day in Istanbul started with a visit to the archaeology museum near Topkapi Palace. Filled with busts and statues from the second century, Wabash men continued their photographic research capturing hundreds of additional photos for their team's web sites.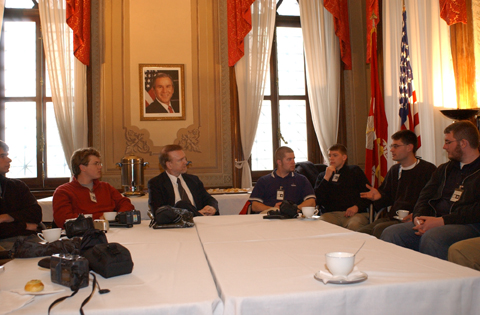 Wabash men with David Arnett '61 at the US Consulate

We left for the US consulate to meet with David Arnett, the Consul-General in Turkey and a 1961 graduate of Wabash College. He spent an hour with us answering questions ranging from personal anecdotes of his career to current events surrounding the impending war with Iraq.

During the discussion, he was handed a note telling him that a anti-war demonstration was taking place outside. While the protest was prevented from getting in front of the Consul, we still felt a bit of tension from the Consul-General about our leaving; political demonstrations in Istanbul can rapidly turn violent.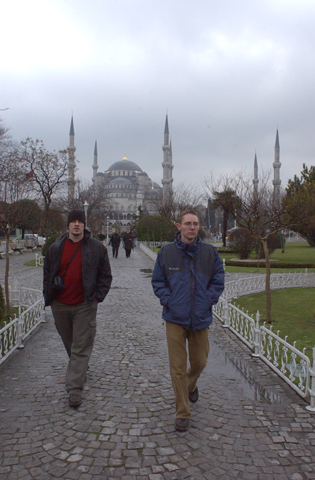 Touring Istanbul

For the rest of our time in Istanbul, the class broke up into smaller groups to tour the Aya Sofya, Blue Mosque, Covered Bazaar and many other sites of personal interest to the various teams.

The warnings from tour guide Sue Ellen proved quite accurate. Mike Eikenberry nearly lost his credit card when a man grabbed it while he was trying to get money out of an ATM machine. Mike chased him for several blocks until the man finally dropped the card. Ahmad Paarlberg's card was jammed into a machine by another man who was trying to "help" Ahmad use the machine. Ahmad waited a few minutes to see if it would come out and then immediately went to the phone to cancel the card. By the time he reached the operator, a short fifteen minutes later, his account was empty; the robber pulled the card out of the machine and used it.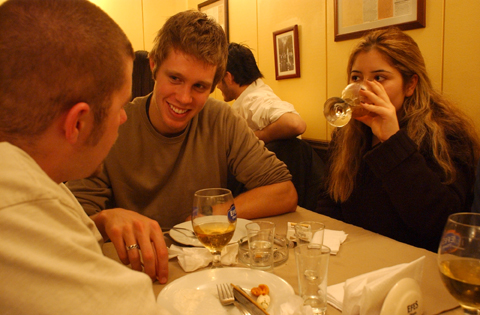 Turkish Nightlife

Istanbul's nightlife starts at midnight and continued to dawn in Taksim, a cab ride away from the Sultanahmet district where we were staying. The Wabash men visited a number of bars and discos. But, no matter how late—or how early—they got home, they always gathered together for breakfast in the hotel. As a non-Wabash alum, I was shocked at the restraint and maturity of these college students. They acted like gentlemen on the entire trip. They had fun but never did anything dishonorable or inappropriate.

In short, the trip offered students a wonderful opportunity to conduct serious scholarly research on ancient Christian sites, but also to immerse themselves in a vastly different culture than their own.

The last night found a group of students visiting a Turkish bath where they were washed and massaged by "sweaty Turkish men." It was a relaxing start to an evening that ended for some when they arrived at the hotel to grab a bite to eat and their bags before heading to the airport to catch their flight!

With war only a few days away, these men will place names and faces to the many people who will suffer through the economic hard-times that will come upon Turkey in the coming months.