Wabash Rallies, Falls Short in Bell Thriller
by Jim Amidon • November 12, 2016

Share:
Wabash rallied from an early 14-0 deficit, tied the game at 17-all in the third quarter, and took a 34-30 lead with 2:06 to play. But DePauw stormed back in the final minute to claim a 37-34 win in the 123rd Monon Bell Classic.
The win for the Tigers snapped a seven-game Wabash winning streak in the rivalry that dates to 1890. Both teams finished 8-2 on the season.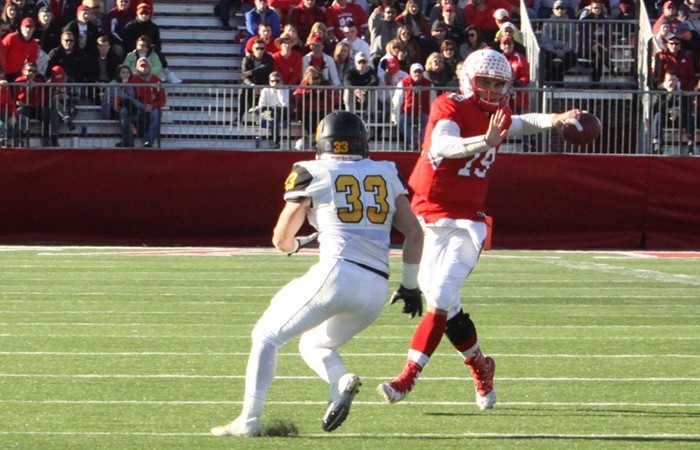 Senior quarterback Connor Rice, who threw for a career high 336 yards, hit Oliver Page for 28- and 20-yard touchdown passes in the second half. But the Tigers' quarterback Matt Hunt had the final say.
Hunt, starting in his fourth Monon Bell Game, led his team 80 yards in less than 90 seconds, and hit his brother, Andy, on a 13-yard corner route for the go-ahead touchdown with 38 seconds remaining.
Hunt accounted for more than 400 yards and all five of his team's touchdowns. He rushed 22 times for 159 yards and three scores, racing in from 51 and 50 yards out, and hit on 19-of 35 passes for 241 yards and two touchdowns. Hunt led the Tigers on scoring drives of 75 and 80 yards in the final six minutes.
"When it came down to it at the end, the best player on the football field won the game," said Wabash head coach Don Morel. "Matt Hunt is a great football player and you have to give him credit for playing a great game today."
Hunt got things going early, leading DePauw to its first-ever touchdown on Sewell Field on the game's opening drive. The Tigers hadn't found the endzone at Wabash since 2008, but Hunt scampered in from two yards out to stake the Tigers to an early lead.
The two teams exchanged punts, and Hunt made it 14-0 when he hit Ian Good from 20 yards out to cap a 10-play, 72-yard drive.
Wabash drove on the Tigers on the next possession, but Andrew Tutsie missed a 29-yard field goal. He would hit a career-long 45-yarder on Wabash's next possession to make it a 14-3 game.
Wabash's defense tightened up for the rest of the first half. The offense found rhythm midway through the second quarter after Coach Morel called for a fake punt on a 4th-and-2 at the DePauw 49. Stephan Jones took the snap and rumbled 24 yards for the first down. Three plays later, sophomore running back Matt Penola rumbled in from a yard out to draw Wabash within a touchdown, 17-10.
Tutsie had a 30-yard field goal blocked on the Little Giants next drive, which sullied a 9-play, 60-yard drive. DePauw led 17-10 at the break.
Rice caught fire in the second half and rallied the Little Giants repeatedly. He found sophomore receiver Page 11 times for 188 yards in the game, both career highs for Page, and hit Ryan Thomas 10 times for 108 yards.
Rice to Page was nearly unstoppable. The two converted from 28 yards out to cap a 7-play, 60-yard drive late in the third quarter that tied the score at 24-24. Wabash finally had the ball with the chance to take a lead, and senior kicker Tutsie hit from 39 yards out to give the Little Giants their first lead in the game, 27-24, with 6:04 to play.
Wabash frustrated Hunt in the second half, but he was cool late in the game. He found Nolan Ayres for 25 yards, then ran straight into Wabash's defense, sidestepped Ethan Buresh, and raced 50 yards for a touchdown and a 30-27 lead.
Rice was up to the challenge when he took over at the Wabash 26-yard line and just 4:43 remaining. In fact, he was likely too efficient — driving Wabash 74 yards in just 2:37. He hit Thomas for 11 and 12 yards, and Page for 27 and 20 yards — the latter a picture-perfect touchdown throw. Wabash seemed to have the game in hand, leading 34-30 with just 2:06 to play.
"Connor Rice was incredible," Morel said. "If you look at those last few drives, the plays he made. And then when you think about the person he is and our team captain — he's just a tribute to Wabash College. He's got tremendous character and I'm proud of him."
Wabash pinned the Tigers deep on the ensuing kick, and Evan Hansen's jarring tackle of Hunt on first down seemed to give Wabash the edge it needed to seal the victory. But Hunt hit Ben Wilson for 18 yards, Good for 25 and 20 yards, and then found his brother for the game-winner.
"We regained momentum, and then had to re-capture it, and you have to give DePauw credit — twice — because they recaptured it yet again. It was just a great college football game," Morel said.
The two teams, noted for stingy defenses, combined for 999 yards and 54 first downs.
The game ended the careers of a Wabash senior class that went 39-6, made the playoffs twice, and won three Monon Bell Games.
In addition to knocking through a career-long 45-yard field goal, Tutsie became Wabash's all-time leader with 35 career field goals (surpassing Joe Bevelhimer '86).
Seniors Delon Pettiford, Austin Brown, and Connor Ludwig combined for 24 tackles to lead Wabash's defense. LV Bowden had six hits, two behind the line, and Ethan Buresh ended his career with three tackles and a sack.
Penola led the Wabash ground game with 74 yards and two scores, but was nicked-up early in the third quarter, which hampered him late. Rice ran for 31 yards, and senior Shamir Johnson had 30 yards. Senior receiver Drake Christen capped his career with 203 all-purpose yards.
More News
---
---
Related
---
Photo Galleries

2016 Monon Bell, No. 1