Monon Bell Chapel 'A Great Honor' for Team Captains
by Richard Paige • November 10, 2016

Share:
Football seems easy when compared to standing on the Pioneer Chapel stage and addressing the Wabash Community 48 hours before the 123rd Monon Bell game.
If only these speeches could be as simple as shutting down an opposing offense.
"It's extremely hard to boil four years into a 10-minute speech," said linebacker Ethan Buresh. "That isn't exactly what I tried to do, but I wanted to convey what I felt about the Monon Bell."
Buresh and fellow senior team captains Connor Ludwig, Delon Pettiford, Connor Rice, and Kyle Stucker made their feelings abundantly clear with all of the intensity, camaraderie, emotion, and even humor the annual rivalry game inspires.
The Monon Bell Chapel Talk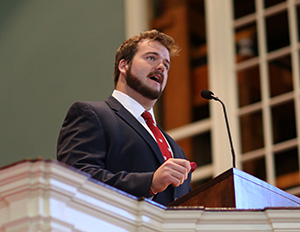 doesn't come by surprise. It's one of the responsibilities that comes with being named a team captain. That's not to say it doesn't generate the kind of nerves not often felt by a group that has amassed a 39-5 record on the gridiron over the last four seasons.
"I was nervous, but it was a great honor," said Ludwig, a linebacker from Indianapolis. "I've been thinking about this for a long time, but last night was when it all came together, when I figured out who and what I wanted to talk about."
Stucker, an offensive lineman, reveled in the opportunity to share this thoughts and emotions in front of a packed house.
"You are able to stand up there and look out upon all of your Wabash brothers, your family, and tell them what you want to tell them about how you feel about your experience and the game," he said. "I wouldn't have traded that experience for many things in the world."
Defensive back Pettiford was pleased to have accepted the challenge of delivering an inspirational message during what is an emotionally charged week.
"Given the pressure from school and classes, it's hard to come up with something that is inspirational, that's going to get the students, faculty, and everybody moving," explained the Indianapolis native. "To create unity for this campus so they are behind us when we go out and fight against DePauw is such an honor."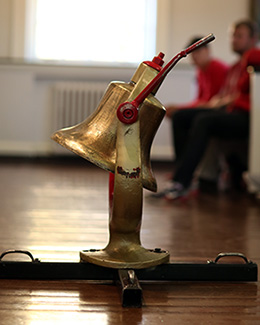 Five captains shared five distinct views, each touching on brotherhood, teammates, and the effort to keep the Bell on campus for an eighth consecutive year. The significance of the moment was not lost on the Little Giant quarterback, Connor Rice.
"Our captains gave great speeches that reflected the types of men, the types of players, the types of leaders they are," he said. "It's kind of bittersweet. I'm glad it's over, but at the same time, I want to do it again because as seniors this is our last chance."
Even 30 minutes after his speech ended, Ludwig struck an excited tone when reflecting on the morning and looking ahead to Saturday
"I feel great about it," he said. "This was something special. I'm ecstatic to play now."