Corky Siegel's Chamber Blues Concert Saturday Evening
• November 1, 2016

Share: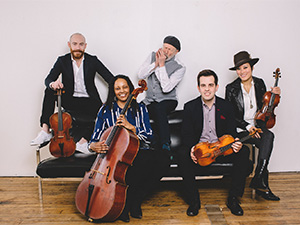 The Wabash College's Visiting Artist Series invites you to an evening concert by blues harmonica master Corky Siegel and his Chamber Blues group at 8 p.m. on Saturday, Nov. 5, in Salter Concert Hall, Fine Arts Center.
In addition to his concert, Siegel will instruct a master class on musical expression, which is appropriate for a variety of genres, at 4:30 p.m. on Friday, Nov. 4, in Salter Hall. Tickets are not required for the master class and it is free and open to the public.
Siegel has earned an international reputation as one of the world's finest blues harmonica players. He is a composer, blues pianist, singer/songwriter, and recent winner of the Lila Wallace/Reader's Digest/Meet the Composer's national award for chamber music composition and the Illinois Arts Council Fellowship Award for Music Composition, Chicago Lifetime Achievement Award, and a member of the Chicago Blues Hall of Fame. Along with the members of the ensemble and the illustrious guest collaborators, Corky Siegel's Chamber Blues continues to break new ground in its 30th year of innovation.
The Chicago Tribune said this about Siegel, "Gritty Chicago blues and rarefied classical chamber music might not seem like a match made in heaven - until you've heard Corky Siegel bring the two together ... a crowning achievement."
The Visiting Artist Series is funded in part by the Indiana Arts Commission, Tippecanoe Arts Federation, and the National Endowment for the Arts.
Tickets for the Saturday evening concert are free, but are required, for Visiting Artist Series events. Reserve your tickets online at www.wabash.edu/boxoffice, or phone 765-361-6411. If not sold out, tickets will also be available at the door the night of the concert.