Sawyers '05, Southside with You, Visit Campus
by Richard Paige • October 25, 2016

Share:
Wabash College will screen the Sundance-celebrated film Southside with You October 28-30 in Salter Hall in the Fine Arts Center, and the movie's star will be in attendance.
The film will be shown at 7:30 p.m. Friday, Saturday, and Sunday nights with an additional 9:30 p.m. screening on Saturday night. Tickets are free, but must be reserved through the box office at www.wabash.edu/boxoffice.
Wabash alumnus Parker Sawyers, Class of 2005, plays a young Barack Obama in the film that tells the story of the president's first date in 1989 with Michelle Robinson, played by Tika Sumpter, the woman who would become his wife and our nation's First Lady.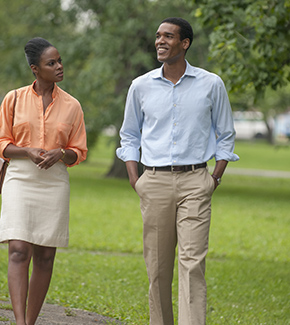 "Both Sawyers and Sumpter are terrific, world-class charmers who suggest the powerhouses they're playing without undue mimicry," wrote Peter Travers in Rolling Stone.
Sawyers, who majored in philosophy as an undergraduate at Wabash, will introduce the film on Friday and Saturday nights, and take questions after the movie.
Directed by Richard Tanne, Southside with You was made in Chicago in 2015 and premiered at the 2016 Sundance Film Festival, where it was nominated for the Grand Jury Prize. Mirimax distributed the film in August.
"In a tumultuous election year, Southside with You is a gentle, rose-tinted piece of political nostalgia—one that glances at the divisions in American society, but still casts an optimistic view toward whatever's next," wrote David Sims in The Atlantic.
Sawyers has previously appeared in Oliver Stone's Snowden (2016), as well as Zero Dark Thirty (2012), Jack Ryan: Shadow Recruit (2014), and Survivor (2015). Sawyers will also star in the upcoming independent horror film The Autopsy of Jane Doe.
Southside with You received a rating of 92% from the movie website Rotten Tomatoes, and critics said, "Southside with You looks back on a fateful real-life date with strong performances and engaging dialogue, adding up to a romance that makes for a pretty good date movie in its own right."