Monon Bell Game Tickets On Sale
• October 22, 2016

Share:
Tickets for the 123rd Monon Bell Classic between Wabash College and DePauw University are on sale now! New ticket options and access to the tailgate village are available.
Wabash and DePauw will meet for the 123rd time on Saturday, November 12 at 1 p.m. on Sewell Field at Hollett Little Giant Stadium on the campus of Wabash College in Crawfordsville, Indiana.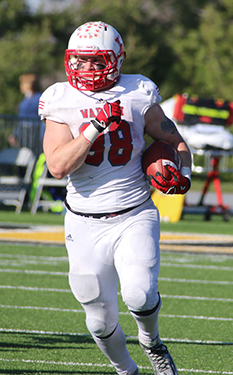 For the first time, multiple ticket options will be available for advance sale:
Monon Bell Classic General Admission Ticket: offering one-time gameday entry to non-reserved seating areas of the Hollett Stadium, for $25 per single-admission ticket.
Monon Bell Classic SuperTicket: General Admission access to Hollett stadium, with one permitted pass-out, for $45 per ticket.
Tickets are on sale at www.mononbellvillage.com, Wabash College Athletics' Hub for details about this year's game. Every person, regardless of age, must have their own ticket for entry to the game.
Information on additional ticket upgrade, hospitality, and RV parking options are also available on the web site. Included are enhancements to the layout around the Stadium and Athletic complex, which includes new entrance instructions and instructions for parking.
Ticket information for Wabash students, faculty, and staff has been provided in a specific communication via e-mail.
The Little Giants lead the series 60-53-9, making it the closest Division III rivalry played more than 50 times than any other in the nation. Wabash retained the Bell in the 122nd game between the schools with a 45-17 win on November 14, 2015. The Little Giants have won seven consecutive Bell games by a combined score of 257-67.