U.S. News Rates Wabash a Top-Tier School
by Richard Paige • September 14, 2016

Share:
Wabash College continues to be ranked among the best liberal arts colleges by U.S. News & World Report in its annual ranking of the nation's top colleges, which was released Tuesday.
Wabash ranked in the top tier of national liberal arts colleges by the publication, a designation that places the College among the best of all 239 ranked schools.
"We at Wabash are always honored to be included in top tier of the U.S. News ranking of national liberal arts colleges," said Wabash President Gregory D. Hess. "We are especially pleased to be ranked so highly for the quality of teaching at the College. This is further evidence — bolstered by top rankings by liberalartscolleges.com and the Princeton Review — of Wabash's historic commitment to excellence in teaching and learning."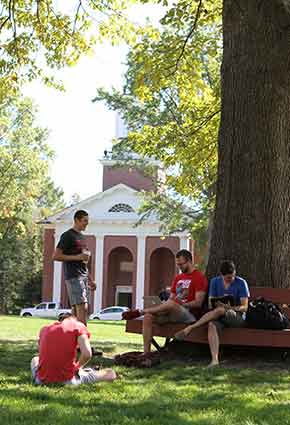 Wabash was recognized as an "A+ School for B Students" by U.S. News as an institution "where nonsuperstars have a decent shot at being accepted and thriving – where spirit and hard work could make all the difference to admissions," according to the publication's criteria. The College was also ranked No. 17 in Best Undergraduate Teaching, bolstered by a student:faculty ratio of 10:1.
Further, Wabash ranked No. 69 in High School Counselor Rankings, a measure of which institutions counselors from across the country feel "offer the best undergraduate education to their students."
U.S. News rankings are based on a weighted breakdown of the following criteria: graduation and retention (22.5%), undergraduate academic reputation (22.5%), faculty resources (20%), student selectivity (12.5%), financial resources (10%), graduation rate performance (7.5%), and alumni giving (5%).
The U.S. News ranking comes on the heels of the College being named one of the best institutions for undergraduate education by the Princeton Review in its annual listing of the top 381 schools across the country. The Princeton Review ranked Wabash No. 10 for the "Most Accessible Professors" and No. 18 for "Professors Get High Marks" to go with a No. 16 rating in "Best Health Services," and for the second consecutive year, a top-20 (No. 15) placement for Best College Theater.
Liberalartscolleges.com, a website dedicated to spotlighting the unique characteristics of a liberal arts degree, ranked Wabash as the top school nationally where students rated their professors the "most accessible and approachable" in rankings released last fall.
College Factual considers Wabash to be an excellent value, ranking it in the top nine percent of all schools nationally. Twenty-four Wabash programs were ranked in the top-15 percent nationally, including six in the top one percent overall: foreign languages and linguistics, Germanic languages, history, and mathematics and statistics.
Additionally, Wabash was one of 40 schools nationally to be included in the bestselling book, "Colleges That Change Lives: 40 Schools That Will Change the Way You Think About Colleges."