A Capella Artist Mike Tompkins to Perform Friday
• September 7, 2016

Share: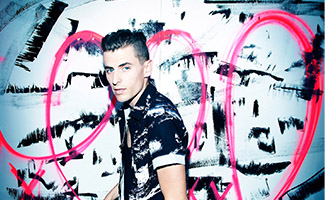 The Wabash College's Visiting Artist Series presents musician Mike Tompkins in a performance at 8 p.m. on Friday, Sept. 9, in Salter Concert Hall in the Fine Arts Center.
A talented a capella producer/artist who cut his teeth on YouTube, Tompkins is a new kind of talent for an ever-evolving musical landscape who approaches his artistry with both raw instinct and technical savvy. Using only his voice, he redefines a capella music by crafting youthful and inspiring pop music/remixes that is equally infectious and innovative, as witnessed by more than 230 million views of his videos.
Last summer, Tompkins took to the road as the opening act for the Jonas Brothers/Karmin tour. Tompkins produced and is featured on the latest t.A.T.u single that went to No. 1 in Russia, and co-wrote and produced (with Timbaland) Jennifer Hudson's single, "Walk it Out."
For more information on Tompkins and current releases of remixes and mashups in his trademark style, visit www.tompkins.fm or www.youtube.com/MikeTompkins.
The Visiting Artist Series is funded in part by the Indiana Arts Commission, Tippecanoe Arts Federation, and the National Endowment for the Arts.
Tickets are free, but are required, for Visiting Artist Series events. Box Office contact information: www.wabash.edu/boxoffice, or phone 765-361-6411. Tickets are also available at the door the night of the concert.