Internships Impact Aguirre-Morales
by Richard Paige • July 27, 2016

Share:
To hear Miguel Aguirre-Morales '19 tell it, there have been two influential trips in his life. His internships this summer might qualify as a third.
The rising sophomore has divided his summer up between two internships: one working at the Santa Ana National Wildlife Refuge in Texas, and the other with the Doris Duke Conservation Scholarship Program at the University of California-Santa Cruz (UCSC).
Quite a bit of fieldwork is in his future, not just in Texas, but in and around the Redwood forests and Pacific Ocean near Santa Cruz. The prestigious program at UCSC selects 20 early-career college students from around the country and immerses them in the field of environmental conservation via research, leadership, and training.
"I'm spending a lot of time outdoors," laughed Aguirre-Morales. "I couldn't wait to get started. It's been a very nice summer."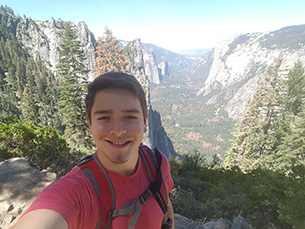 His time at Santa Ana focused mainly on organization and public relations, though he picked up birding as a hobby as well. Aguirre-Morales says his first weeks in Northern California have been engaging, not only because of the surroundings, but the program's focus on leadership, discussion, and teamwork.
"I've met people with very different perspectives than me, which has been truly an eye opener because I have gained new insights in many topics ranging from conservation to culture," he said. "Apart from that, the environment is certainly different from anywhere I have been. Walking everywhere initially felt like a hike."
Ever since he can remember, the Donna, Texas, native has been interested in marine biology. It was a family trip to Acapulco that sparked Miguel's interested in zoology. For him, it's always been something related to mammals and the water that captured his attention.
"I remember learning about zoology from a tour guide I met visiting a hotel that had one of the best views of the beach," he said. "The way the guide described zoology made it seem much more interesting than marine biology at the time, but that changed as I grew up and learned of new disciplines. Now, I am more focused on habitat restoration, specifically aquatic habitats, because I want to help conserve the beauty nature brings."
During his junior year of high school, Miguel started making big picture connections about the environmental issues facing society today.
"I'm kind of a tree hugger and it made me angry that there were so many issues to face; that we are leaving the environment in such bad shape for future generations," he says. "That pushed me to want to do something about it. The best way for me to do something with my skills was using the sciences to find ways to solve issues."
It was about that same time that Miguel became connected to Wabash College. David Wagner '05, then Principal-in-Residence at IDEA College Preparatory School in Donna, organized a bus trip from the Rio Grande Valley to the Midwest so the college-bound juniors could explore options for college. In addition to Wabash, the itinerary included schools like the University of Chicago, Wheaton, Maryville University, and Saint Louis University.
"His passion for mathematics and science stuck with me, along with his character as a student," said Wagner, now the Principal at IDEA College Preparatory North Mission in Mission, Texas. "He simply loved to learn and, although extremely bright, he carried himself quite humbly. These were the qualities that made me begin to think he would fit well at Wabash."
He eventually applied and was offered admission into the Wabash Liberal Arts Immersion Program (WLAIP), the summer program geared toward first-generation college students, featuring programming for both students and parents that includes exposure to the liberal arts, a summer immersion experience, and opportunities and resources that are focused on increasing individual success.
"The WLAIP sealed the deal for me," Miguel says. "That's how I met my two roommates. One of the mentors in the program, Jacob Alaniz '18, is my best friend. He's been a mentor, he's helped with chemistry and anything I needed.
"It (the WLAIP) seemed like a great opportunity," he continued, "and it got me thinking there might be even more opportunities for me at Wabash."
Miguel has adjusted well to life on campus. In addition to successfully navigating the rigors of introductory chemistry, he's involved doing research with a professor on campus and in a number of extracurricular activities including the recolonization of Delta Tau Delta, Wabash Acts Responsibly, College Mentors for Kids, and Students for Sustainability.
"He is one of those energetic young gents who glows with potential," said Chemistry Professor Lon Porter. "He is a great laboratory worker and his enjoyment of the practical side of science is clearly evident. I would have loved for him to work in my lab this summer, but he lined up these prestigious opportunities off-campus."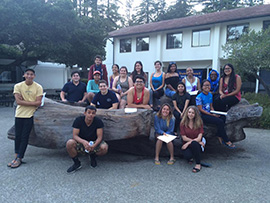 After a busy first year of college and a fully booked summer, the energy level doesn't appear to be waning for Aguirre-Morales. He's already pinned his sights on graduate school.
"I've heard, 'Well, you're just a freshman and you're already conducting research,'" says Aguirre-Morales. "The UCSC internship is for two summers. I'll be there this summer, return for a conference in December, then work for an environmental agency next summer. I'll get some research fieldwork and real-world work experiences as well, so it will be very helpful. People tell me I'm ahead of the game, and I like that. I hate the feeling of being behind."