Leadership Program Tabs McDorman
by Richard Paige • May 19, 2016

Share:
Wabash College's Todd McDorman is one of 30 higher education administrators selected by the Council of Independent Colleges (CIC) to participate in the 2016-17 Senior Leadership Academy.
The Senior Associate Dean of the College and Professor of Rhetoric, McDorman garnered selection in the year-long program by possessing great potential for senior leadership positions. The Senior Leadership Academy prepares those with leadership potential to assume positions as the chief officers in any division, including academic affairs, student affairs, finance, enrollment management, and advancement, in independent higher education.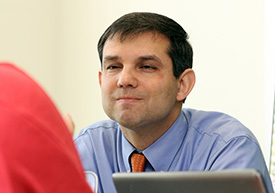 "I appreciate the opportunity to participate in the CIC's Senior Leadership Academy," said McDorman. "The activities will allow me to better serve Wabash by expanding my understanding of administrative decision making and leadership and familiarity with issues facing higher education. I hope to draw from the experience of participating in the program to continue to help Wabash while providing me with new perspectives and resources in college operations."
McDorman will participate in an opening seminar, Nov. 4-6, in New Orleans, LA, and a closing seminar, June 22-24, 2017, in Washington, DC. He also will take part in a mentoring program, work with experts in various aspects of higher education administration, participate in webinars, engage in a series of readings and case studies during the academic year, and follow a professional experiential plan to aid in career advancement.
Having joined the Wabash faculty in 1998, McDorman's primary research program has focused on the rhetoric of law with particular interest in marginalized groups. This has resulted in work on topics such as the right-to-die and the Dred Scott case. Much of his recent work has examined the rhetoric of sport, with a particular emphasis on the redemptive efforts of banished baseball icon Pete Rose to repair his image and gain re-entry into baseball. Five times he has presented this scholarly work at the National Baseball Hall of Fame.
In addition to serving as the Senior Associate Dean of the College, he coordinates the annual Wabash College Moot Court competition, while previously chairing the Rhetoric Department, Distribution Committee, Pre-Law Committee, Undergraduate Research Committee, and Freshman Tutorial (co-chair), and was the lead writer on the College's last institutional self study.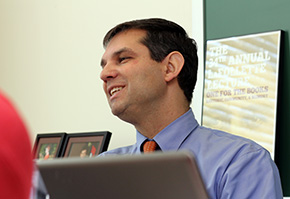 "I am excited that Todd has been chosen for this opportunity to further his knowledge of the challenges and opportunities in liberal arts education," said Scott E. Feller, Dean of the College and Lloyd B. Howell Professor of Chemistry. "The chance for him to share his considerable skills with other participants and to learn from them and from the CIC mentor network is valuable to both Wabash College and to other institutions that share our commitment to high quality student engagement."
Co-sponsored by the CIC and the American Academic Leadership Institute, the Academy saw 61 percent of participants in the first cohort (2010–11) advanced in their careers and 19 percent of participants in the most recently completed cohort (2014–15) already have earned more advanced positions.