178th Commencement Today
by Richard Paige • May 10, 2016

Share:
Four years of academic pursuit concludes with a turn of the tassel as Wabash College celebrates its 178th Commencement exercises on Sunday, May 15, at 2:30 p.m. on the College Mall. The ceremony will be streamed live at www.wabash.edu/live
President Gregory D. Hess will lead the procession and will ring out the Class of 2016. One hundred ninety-six men are scheduled to receive their sheepskin diplomas in the ceremony.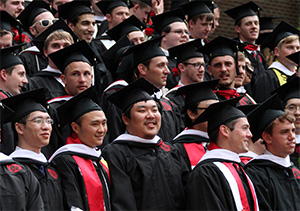 Click here for a schedule of events
Two graduating seniors, Nathaniel Brighton Bode and Samuel Thomas Vaught, will be the only featured speakers at the Commencement in keeping with a long-standing Wabash tradition.
Mr. Bode double majored in psychology and Spanish. The Phi Delta Theta member participated in Cross Country, Track, Student Government, and Sphinx Club. He studied abroad his junior year in Argentina. Bode received the Dean Stephens Award which is given in memory of Coach Dean Stephens to a student who reflects Stephens' broad intellectual and personal interests, high moral courage, and humane concerns. Bode is the son of Mark and Patricia Bode of Greenfield, IN.
Mr. Vaught majored in religion and minored in classics. He was a member of Student Senate, participated in the Wabash theater production of Guys and Dolls, and sang in the Glee Club all four years serving as President as a senior. Vaught received the Community Service Award for Outstanding Work, the Glee Club Senior Award, the John N. Mills Prize in Religion, the John N. Mills Fellowship in Religion, the Lewis S. Salter Memorial Award, earned distinction on comprehensive examinations, and will be inducted to Phi Beta Kappa. In addition, he coordinated daily morning prayer for students and faculty during his junior and senior years. Next year, Vaught will join the Episcopal Service Corps in New Haven, CT. He is the son of Thomas and Debra Vaught of Crawfordsville.
The College will award honorary degrees to Thomas J. Broecker '84, Emmy Award-winning costume designer, and Congresswoman Susan W. Brooks (R IN-5th).
On Saturday, May 14, 24 students will be inducted into the Wabash chapter of Phi Beta Kappa, the nation's oldest honorary society. To be inducted this year are seniors Derek Andre (Sullivan, IN), Matthew Binder (Hobart, IN), Patrick Bryant (Carmel, IN), Robert Dennis (Muncie, IN), Ethan Farmer (Bloomington, IN), Lester Gallivan (Hobart, IN), Abraham Hall (Bremen, IN), Kevin Kennedy (Dillsboro, IN), Inbum Lee (Dobong-Gu, Korea), Albert Li (West Lafayette, IN), Jiaxi Lu (Beijing, China), Charles Mavros (Lowell, IN), Dylan Miller (Milan, MI), Nicholas Minaudo (South Bend, IN), Kaleb Morris (Lafayette, IN), Scott Purucker (Indianapolis, IN), Benjamin Shank (Auburn, IN), Weijie Shi (Nanjiing China), Christopher Shrack (Indianapolis, IN), Paul Snyder (Hillsboro, OH), Christopher Stazinski, Valparaiso, IN), Samuel Vaught (Crawfordsville, IN), Alexander Waters (Troutdale, OR), and Korbin West (Spring Grove, IL).
Those seniors join Adam Alexander (Yorktown, IN), who was elected as a junior last year.
In addition, the Senior Art Exhibition will be open from 8 a.m.-5 p.m. in the Eric Dean Gallery. The exhibition features the work of senior art majors Robbie Carter, Shariff Harrison, James Kennedy, Aren Peterson, and Tre' Taylor.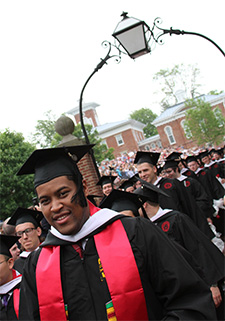 Commencement Day at Wabash begins at 11 a.m. with Baccalaureate, which will be held in Pioneer Chapel. Father Vincent Druding '99 will give the Baccalaureate sermon. Druding is Parochial Vicar at the Church of the Assumption in Peekskill, NY.
At the conclusion of the Commencement ceremony, President Hess then will guide the graduates through the Senior Arch and proceed to the steps of the Allen Center, where the Class of 2016 will sing "Old Wabash" for the first time as alumni.
Following the ceremony, there will be a reception for the Class of 2016 at 3:30 p.m. near the Frank Hugh Sparks Center west portico (between Morris and Wolcott Halls).
In the event of rain, Sunday's Commencement exercises will be held in Chadwick Court of the Allen Athletics and Recreation Center. Overflow viewing will be available in Salter Hall and Korb Classroom in the Fine Arts Center.
A Commencement Podcast

This week's edition of the "Wabash On My Mind" podcast talks with 2016 Commencement speakers Nathan Bode and Sam Vaught. Topics include their Wabash experiences, favorite memories, and preparing for Sunday's speeches. Just click the play button at the bottom of the graphic to enjoy the conversation.