Our Town Runs Through Sunday
by Jim Amidon • April 19, 2016

Share:
One of the most beloved plays of American Theater will be performed for the very first time at Wabash College when Our Town opens Wednesday, April 20 for a five-day run in the Experimental Theater in the Fine Arts Center.
Curtain time is 8:00 p.m. each evening with a special matinee scheduled for 2:00 p.m. Sunday. There is no charge for admission, but tickets should be reserved in advance through the box office (boxoffice@wabash.edu or 765-361-6411). The play is performed in the round and tickets are limited.
Thornton Wilder's Pulitzer Prize-winning play was first performed in 1938 and over 60 years later won both Tony and Drama Desk awards for Best Revival on Broadway.
"It is a truism in the theater that every night, somewhere in America, an audience is watching Our Town," Director Michael Abbott said.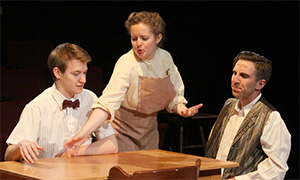 The playwright had grown exhausted with the expanse and expense of the theater of his time, so he stripped down Our Town to its most simple form — no sprawling sets, props, or dramatic lighting; only a few tables and chairs. The actors mime all of their daily interactions – delivering milk, preparing food, and tossing newspapers on front porches in a classic play within a play.
"I felt that something had gone wrong… I began to feel that the theatre was not only inadequate, it was evasive," Wilder said at the time he wrote the play.
Our Town is set just after the turn of the 20th century in Grover's Corners, New Hampshire in a story that spans a dozen years. While the play within the play is set in 1938, we follow the lives of regular people over three acts, all carefully narrated by A.J. Clark, who plays the role of the Stage Manager. Through Clark, the audience witnesses the arc of life — the Daily Life of Grover's Corners; Love and Marriage; and Death and Dying.
"After a bit of research, I discovered that Our Town has never been staged by the Wabash College Theater, so I re-read Wilder's script, and the play came alive for me like never before," Abbott said. "It is a masterpiece of understated elegance and simplicity, disguising Wilder's deep thematic ambitions. Our Town is an extraordinarily humane play that never flinches from showing us how joy and suffering are equal partners in our journey through life."
The play focuses on the lives of the Webb and Gibbs families and we see their children, Emily and George, grow up, fall in love, and do what all new high school graduates do – get married. Wabash freshman Quinn Cavin and Crawfordsville High School senior Elizabeth Hutson play George Gibbs and Emily Webb, the young people who reluctantly marry and live out their lives on stage.
"Our production features the work of 24 actors — 14 Wabash men and 10 actors from the Crawfordsville community," Abbott said. "Our Town? is a document of small town life, and our production reflects the virtues of a small college / small town community collaboration."
Josh Brewer and Kelly Cassady play George Gibbs' parents, while Jared Cottingham and Megan Prichard play Emily's parents.
Abbott's production also includes a small community choir, which is directed by local musician and voice coach John Blair.
Sophomore Zachary Anderson served as Abbott's Assistant Director. The rest of the production team includes Production Stage Manager Nathan Lewis-Cole, Scenic and Costume Designer Andrea Bear, Lighting Designer Laura Glover, and Technical Director Ben Dobler.
The full cast of Our Town includes AJ Clark (Stage Manager); Quinn Cavin (George Gibbs); Josh Brewer (Dr. Gibbs); Kelly Cassady (Mrs. Gibbs); Isabella de Assis-Wilson (Rebecca Gibbs); Elizabeth Hutson (Emily Webb); Jared Cottingham (Mr. Webb); Megan Prichard (Mrs. Webb); Chris Szostek (Wally Webb); Ian Artis (Joe Crowell); Aaron Stewart-Curet (Si Crowell); Timothy Locksmith (Howie Newsome); John Blair (Simon Stimson); Noah Eppler (Joe Stoddard); Kendall Baker (Constable Warren); Abel Becker (Sam Craig); Nathan Muha (Professor Willard); Julia Phipps (Mrs. Soames); Laura Hutson (Woman in the Balcony); Jake Peacock (Belligerent Man in the Auditorium); Heather Olin (Woman in the Box); and Griffin Levy, Michael Wilson, and Alex Wimber (Baseball Players).
More News
---
---
Photo Galleries

Our Town at Wabash College - April 20-23, 2016