Falk to Receive Senior Peck Medal
• April 15, 2016

Share:
Wabash College President Gregory Hess announced that Ken Falk, Legal Director of the American Civil Liberties Union of Indiana, is the 2016 recipient of the David W. Peck Senior Medal for Eminence in the Law.
Falk will visit campus to deliver a lecture – "The Law as a Shield and a Sword – An Advocate's Perspective" – at 5 p.m. on Monday, April 18, in Baxter Hall room 101, and will receive the Senior Peck Medal thereafter at the 43rd Annual Peck Dinner.
"Ken Falk has modeled legal service at the highest level for decades," Hess noted. "Mr. Falk provides a great role model for our students about how to think critically and act humanely in a difficult world," Hess added.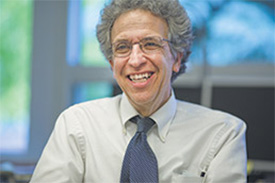 A Columbia University law graduate, Falk worked at the Legal Services Organization of Indiana from 1977 to 1996, serving those who were unable to pay for the legal services they needed, eventually rising to the position of Director of Litigation. For the last 20 years, Falk has successfully advocated for civil rights and civil liberties at the ACLU of Indiana while maintaining the highest level of lawyerly decorum despite the often divisive nature of those cases.
"In an era of decreasing civility in both litigation and public discourse, Ken Falk's legendary legal career provides inspiration for those who value honest and even-tempered debate over inflammatory sound bites," said Tom Fisher '91, Indiana Solicitor General. "Mr. Falk's commitment to clients is matched by his professionalism with opposing counsel and the judiciary. Through scholarly and civil advocacy at all levels, Mr. Falk has set high standards of excellence for all lawyers in Indiana."
Wabash alumnus John Collett '24 established the Peck Medal to honor his fraternity brother Judge David W. Peck '22, who practiced law for many years at Sullivan & Cromwell in New York City and also served as presiding justice of the courts in Manhattan and the Bronx.
For over four decades, the Peck Dinner has provided a unique opportunity for Wabash students interested in the law to meet lawyer alumni and to benefit from the wisdom of the Senior Peck Medal recipient. The event also recognizes student Prelaw award winners.
Senior Peck Medal Recipients
1974 Cleon H. Foust '28
1975 Bethuel M. Webster
1976 William D. Ruckelshaus
1977 Whitney N. Seymour
1978 Harold A. Stevens
1979 Victor G. Rosenblum
1980 Paul H. Buchanan, Jr.
1981 Byron Hollett '36
1982 Richard D. Cudahy
1983 Thomas M. Lofton
1984 William F. Harvey
1985 William I. Garrard '54
1986 Richard O. Ristine '41
1987 Charles E. Rice
1988 Thomas K. Milligan '63
1989 Sara Evans Barker
1990 James E. Bond, Jr. '43
1991 Bruce A. Polizotto '63
1992 Pasco Bowman III
1993 Roger D. Billings, Jr. '59
1994 David N. Shane '70
1995 Richard Epstein
1996 Vincent F. Grogg '55
1997 Frank M. Rasmussen '56
1998 Timothy A. Guiden '82
1999 Robert George
2000 Dock McDowell, Jr. '72
2001 Richard Neely
2002 Randall T. Shepard
2003 Edward B. McLean
2004 David E. Kendall '66
2005 Theodore R. Boehm
2006 John T. Noonan, Jr.
2007 Geoffrey R. Stone
2008 Stephen L. Carter
2009 Morris Dees
2010 John R. Crook '69
2011 Bryan A. Stevenson
2012 William Neukom
2013 David Hamilton
2014 Thomas B. Griffith
2015 John Daniel Tinder
2016 Ken Falk