Bachelor Claims 25 ICPA Awards
by Joe Reilly '18 • April 11, 2016

Share: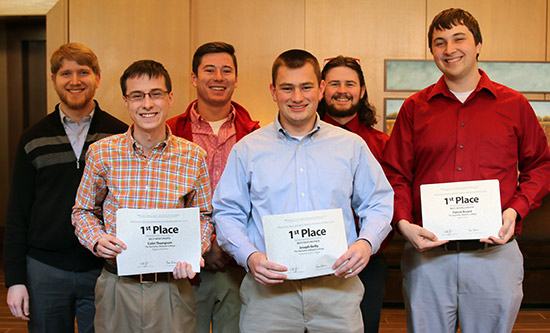 For the third year in a row, The Bachelor defeated its rival newspaper The DePauw at this year's Indiana Collegiate Press Association awards conference. The distinction for The Bachelor was bolstered by eight 1st place awards and 25 overall awards and a second-place finish for Best Newspaper.
The awards encompassed the spring and fall semesters of 2015 under Editors-in-chief Patrick Bryant '16 and Adam Alexander '16.

Of the 25 overall awards the staff received, a number of different staff members from the 2014-15 and 2015-16 school years were recognized. Receiving 1st place awards were
Bryant, sports columnist Samuel Hanes '16, Cavelife Editor Joseph Reilly '18, Alexander, News Editor Cole Crouch '17, Photo Editor Colin Thompson '17, photographer Ian Ward '19, and cartoonist Joey Dierdorf '18. Receiving 2nd or 3rd place awards were
Alexander, sports writer Tucker Dixon '19, senior staff writer Taylor Kenyon '15, staff writer Luke Doughty '18, columnist William Kelly '18, Sports Editor Michael Lumpkin '18, Crouch, Reilly, photographer Jacob Ferguson '18, Thompson, Dierdorf, Cavelife Editor Fritz Coutchie '15, and photographer Marcus Hoekstra '18.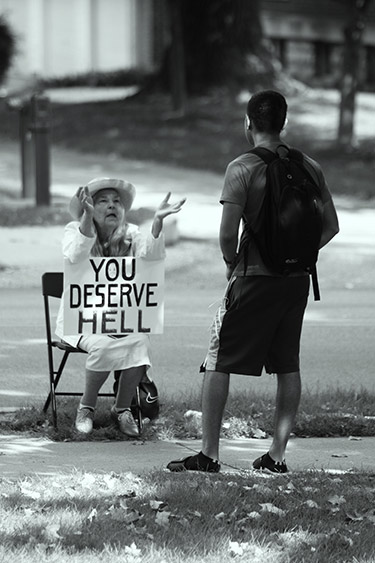 Some of the pieces to receive high praise from the judges include Thompson's photo "Religious Protestors," a photo from last fall's appearance of religious protestors on campus.
"A genuine, real moment of a peaceful is captured in this image," the judge said. "You can see the conflict in her gestures. It's a fantastic news photo, framed expertly."
The Bachelor received 3 more awards than its most decorated year previous.
"We have never won as many awards as we did this year." Alexander said. "I think that's due in large part to the fact that our staff really takes pride in their work. We have a very committed group of student journalists who are essentially writing a story every week in addition to their regular Wabash workload."
"Our guys take their assignments seriously, and the recognition they received at ICPA is confirmation that we have a fantastic staff at The Bachelor?. We went up against many newspapers which are full of students majoring in journalism, and for us to not only compete but come in second place among all of them is an amazing feat. I'm very proud of our staff.?"
Goshen put up 57 points in pursuit of the top honor. The Bachelor received 52 points and Anderson University came in third with 27.
"While it's always great to be named newspaper of the year, I was thrilled we not only won more awards than any other paper in our division but more than The Bachelor has won in any previous year." Advisor Howard Hewitt said.
"Having nearly 20 Bachelor staffers recognized for their journalistic efforts is remarkable at an institution where there is no formal journalistic training. We're proud of that and I'm proud of the young men who produce a quality campus newspaper weekly."
1st place awards
Best Special Issue
Patrick Bryant '16 and Staff, "April 3, 2015"
Best Staff Editorial
Patrick Bryant '16, "Hess Rightly Condemns RFRA"
Best Sports Column
Samuel Hanes '16, "Gameday Decisions"
Best Feature Page
Joseph Reilly '18, "November 6, 2015, Page 8"
Best Special Section Front/Cover
Adam Alexander '16, Cole Crouch '17, Colin Thompson '17, Ian Ward '19, "November 13 (Monon Bell Week)"
Best Overall Design
Patrick Bryant '16, "March 6, 2015"
Best News Photo
Colin Thompson '17, "Religious Protestors"
Best Editorial Cartoon
Joey Dierdorf '18, "Wally Wisecracks: Chapel Sing 2014 and 2015"
2nd place awards
Best Themed Issue
Adam Alexander '16 and Staff, "November 13, 2015"
Best Sepcial Issue
Adam Alexander '16 and Staff, "August 28, 2015"
Best Sports Feature Story
Tucker Dixon '19, "A True Wabash Man"
Best News or Feature Series
Taylor Kenyon '15, Luke Doughty '18, "Mental Health"
Best Opinion Column
William Kelly '18, "Wabash Always Fights"
Best Sports Column
Michael Lumpkin '18, "Lucky Number Seven"
Best Front Page
Cole Crouch '17, "October 23, 2015"
Best Feature Page
Joseph Reilly '18, "September 25, 2015, Page 8"
Best Special Section Front/Cover
Adam Alexander '16, "August 28 (Back-to-Campus)"
Best Photo Essay/Picture Story
Jacob Ferguson '18, Colin Thompson '17, "Homecoming"
Best Editorial Cartoon
Joey Dierdorf '18, "Wally Wisecracks: Thanksgiving Break"
3rd place awards
Best Single Issue
Adam Alexander '16 and Staff, "October 9, 2015"
Best Themed Issue
Adam Alexander '16 and Staff, "October 2, 2015"
Best Entertainment Story
Joseph Reilly '18, "The Bachelor's 12-Step Program to Surviving Bad Grades"
Best Entertainment Column
Fritz Coutchie '15, "Evolving Caveman: A Guide to Wet Shaving"
Best Informational Graphic
Colin Thompson '17, "Christmas Wrapping"
Best Illustration
Marcus Hoekstra '18, "Spring Break"