Trekking Through Turkey: Wabash Student Makes Stunning Find in Ruins of Ephesus
by Justin Lyon, Todd Vogel • March 11, 2003

Share: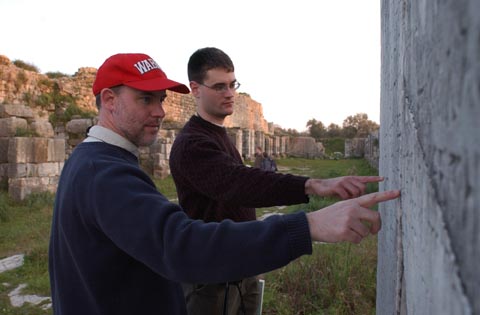 Josh Tatum and Professor Bob Royalty study the Faustina Baths
Director of New Media Justin Lyon and student photographer Todd Vogel '04 are accompanying a Wabash religion class on its trip to Western Turkey to research ancient Christian sites. The following is Lyon's journal entry from March 10, along with Vogel's photos.
Filed March 10, 2003
Ephesus, Turkey— We set out today with hopes of visiting closed portions of the ruins of Ephesus. Professor Royalty got Mr. Cengiz, the Vice-Director of the Ephesus Museum, to take us on a personal tour of sites closed to the public.
We started by walking amongst the colossal broken columns remaining from the Temple of Seraphis. Built in the second century to honor an Egyptian god, this massive temple, larger than a football field, was built with spectacular marble. Nearly 40-foot monolithic columns lay scattered about providing challenging hiking.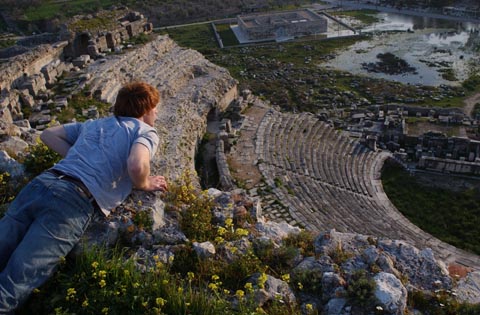 Ben Faraone marvels at the size of the Theater at Miletus

The Temple Houses, covered with a special roof designed by Mr. Cengiz, contains well-preserved tile mosaics on the floors, paintings on the walls and even ancient graffiti of fighting gladiators. We were privileged to explore this working archaeological site of the home of a wealthy Priest of Dionysus.

We were careful to not brush up against the delicate antiquities as we wound our way through the narrow passages. As we exited the building, we marveled at the still functioning plumbing, used for thousands of years to drain water away from the houses to the harbor miles away. Today this plumbing drains water from the roof to the ancient harbor.

As we passed the Harbor Gymnasium, the practiced eyes of Mr. Cengiz found two Roman coins. Chris Buresh, suitably impressed by the idea of finding archaeological remains turned over by rain and plows, later discovered a 2000 year-old partial hand from a statue while walking along the Sacred Way. He turned it over to Mr. Cengiz so that it could be added to the ever-growing museum collection.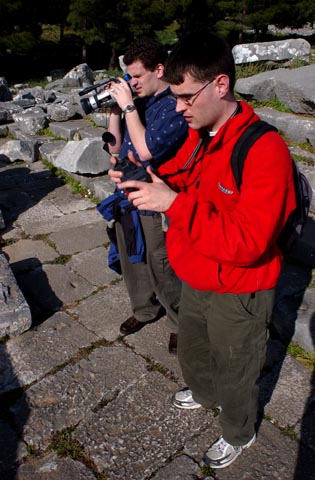 Wabash students videotape and photograph the ruins at Priene

For every day of digging at sites like Ephesus, weeks of research are required to document discoveries that span millennia.

After dropping off our private guide, we visited the Temple of Artemis before making our way out of town to visit Priene, a Greek polis that slowly withered on the vine during Roman times due to its non-strategic location. A beautiful city, it lacked a harbor so it was preserved from pillaging Roman soldiers. It was here that we saw the spectacular Temple of Athena Polias whose building was funded by Alexander the Great.

Later, at Miletus, the power of visiting ancient sites became apparent to Jim Young. He had presented a report back on campus on Miletus' theater but had to admit that it was "even bigger that I thought."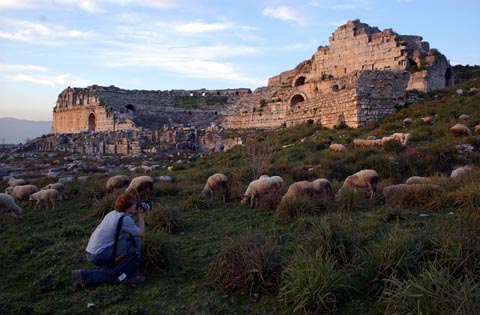 Faraone photographs sheep grazing in the shadows of the Theater at Miletus

As he walked through the tunnels used by the masses to get to their seats, much like the RCA dome in Indianapolis, Young said, "It's as close as you can get to being there and that really makes a difference with respect to learning. I'm glad Wabash does this."




For more information see: