Cincinnati Welcomes Dean Scott Feller
by Tom Runge • February 5, 2016

Share: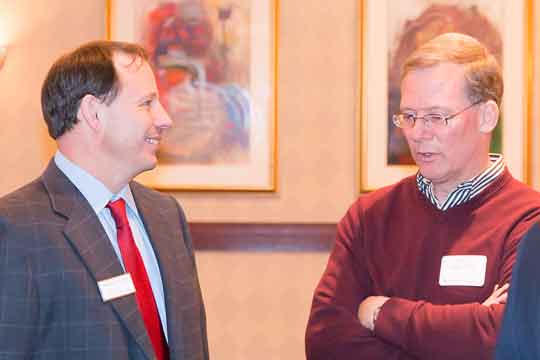 Dean of the College Scott Feller was the special guest of the Greater Cincinnati Association of Wabash Men Thursday, February 4, 2016.
In his after dinner remarks, Scott provided an overview of the college. He recounted the great fall with the opening of the new residential district, the success of our football team, wrestling, and cross country teams, and the return of the Delta Tau Delta fraternity.
Feller also explained the Liberal Arts Plus initiatives. He game some detail on The Center for Innovation, Business, and Entrepreneurism, the Global Health Initiative, and The Democracy and Public Discourse Initiative and the new Digital Arts Initiative. Feller gave several examples of the value of these opportunities for our students. All of these offer Wabash students the opportunity to pursue their liberal arts education to tackle real world issues and challenges …while still a student. At Wabash, there's no need to wait until after graduation.
Finally, Feller mentioned the value of our alumni body referring students to Wabash. Young men who are referred by an alumnus are more likely to attend and be successful at Wabash.
The event included two Wabash Trustees – Chuck Goering '51, with wife Caroline, and Roger Billings '59, wife Debbie Joining Feller at the event were David Troutman, Wabash's Director of Gift Planning, and Matt Bowers '08, Assistant Director of Admissions and regional recruiter for the Greater Cincinnati area.
Mark Sutton '92, a member of the board of directors of the National Association of Wabash Men and a local Cincinnati alumni leader, served as the evening's emcee. Trustee Roger Billings '59 introduced Dean Feller.
Photos:
Top -Dean Scott Feller talks with Dr. Kevin Budke '78
Middle - Scott Feller
For more photos, click here.