Art Exhibit Opening Friday
by Jacob Roehm '18 • January 29, 2016

Share: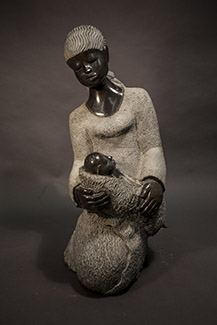 The Wabash College Art Department presents the opening of Generations: Sculpture in Stone from Zimbabwe, Africa on Friday, January 29, with an opening reception from 4:30–6 p.m. in the Eric Dean Gallery of the Fine Arts Center. Generations is curated by Wabash students: Cole Chapman (a graduate of South Montgomery High School), Nick Bova, Jacob Roehm, Hai Nguyen, Forrest Lowery, and Kyle Louks. This exhibition reveals one of the 20th and 21st centuries' most cohesive and enduring art movements and highlights the poignant theme of family by three generations of artists.
Generations is the end product of an Art History class held at Wabash College in the fall of 2015 led by Dr. Elizabeth Morton, Chair of the Art Department. Using a large cache of previously unknown Zimbabwean sculptures from the Hans Dieter Huebert Collection in Germany, the class identified and classified this work before developing the exhibition. The result, Generations: Stone Sculpture in Zimbabwe, is the first student-curated exhibition the college has ever hosted. The student curators also produced a free catalogue to accompany the exhibition.
The exhibit continues through April 9. The exhibit is free and open to the public and is handicap accessible. The hours for the Eric Dean Gallery are 9-5 p.m. Monday through Friday and 10-2 p.m. Saturday.
Photo: Washington Msonza, Mother and Child, Springstone, photo by Matt Weedman