Little Giant Season Ends in Quarterfinals
by Howard Hewitt • December 5, 2015

Share:
SAINT PAUL, Mn. – Short fields and miscues ended Wabash College's football season here Saturday. The No. 3 ranked St. Thomas Tommies advance to the national semifinals after a 38-7 win over Wabash.
The Little Giants' early and mid-game mistakes provided short fields for the potent Tommie offense and kept the Wabash defense on the field for long periods of time. Wabash ends its season 12-1 but with an NCAC Conference Championship, seventh-straight Bell win, and national quarterfinals appearance.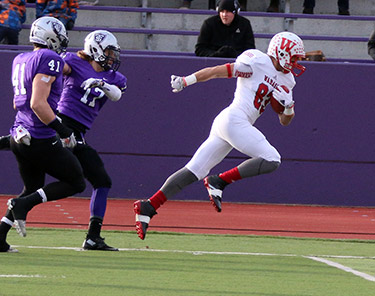 "Congratulations to St. Thomas, their coaches and players, for a good game and wish them the best of luck next week," said Coach Erik Raeburn. "I'm incredibly proud of our players for the type of season they've had and for how hard they work. Obviously we didn't feel like we played our best today, but definitely proud of everything they have done for our football program, particularly our seniors."
One of the biggest differences in the game was a Raeburn concern all week. "Defensively, their corners took away our two outside receivers, which allowed them to play nine guys against the run. Whoever they play next week, that team is going to have to success against their corners or they will have a long day trying to run the ball."
Mason Zurek was held to just 72 yards in tough running situations. He said there wasn't any surprises from the Tommies. "I think they were the best schemed defense we've seen," he said. "They had pretty good players; I'm not going to lie. Thomas More had some dudes who could hit though, these guys schemed pretty well.
"We saw what we expected, strong outside pressure. They brought it every play and stuffed up holes. I tried to get a little bit to the outside, but their corners were crashing pretty hard."
The Tommies got on the board early when Nick Waldvogel returned a Wabash punt 48 yards for the score, 7-0. The Tommies scored again after Wabash had pinned the hosts on their own 2-yard line. The Wabash defense thought it had pinned a Tommie runner in the end zone for a safety but the officials said his forward progress was beyond the goal line. St. Thomas then drove 98 yards in 15 plays for 14-0.
Wabash's defense was playing the high-scoring hosts tough but the tide changed late in the first half and early in the third. Wabash had a punt blocked, from a low snap, then St. Thomas took over and moved 48 yards in four plays to kick a field goal as the first half expired.
Wabash came out and moved the ball effectively to start the third but had a Mason Zurek touchdown called back on a holding call. A missed field goal attempt kept Wabash scoreless. The teams stayed even for most of the quarter until a Tommie drive stalled setting up field goal try. Holder and tight end Charlie Dowdle took the snap and ran around end for an 18-yard touchdown that opened the game up, 24-0.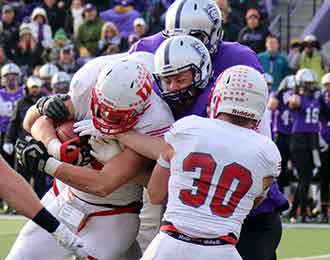 "The holding call to wipe out the screen play for a touchdown, and then missed the field goal, that hurt our chance to get back in it I thought," Raeburn said. "That would have made it 17-7 and gave us a little life. So that was tough to get a holding call on a screen play."
Wabash did get on the board early in the fourth quarter. Wabash recovered a Tommie fumble and scored in two plays. Matt Dickerson appeared to score on more than a 30-yard end around, but was ruled out at the four. Zurek ran over a single Tommie defender to get the Little Giants on the board, 38-7.
The most meaningful statistic in this 38-7 loss might have been time of possession. St. Thomas doubled up on Wabash 2-1 in time with the ball. A fumble on a Tommie punt and a successful St. Thomas onside kick kept Wabash's defense on the field for extended periods.
St. Thomas rolled up 384 yards of offense to Wabash's 226. Wabash was just 2-of-14 on third down conversions while the defense held the Tommies to 5-of-17.
Zurek's 72 yards gave him 2,011 yards for the season, the first runner in Wabash history to finish with more than 2000. He capped his career with a total of 3,379 yards and 40 touchdowns.
A bright light for the Little Giants was the defense effort was led by underclassmen. Austin Brown led the way with 16 tackles. Brian Parks added 10, while Connor Ludwig and Evan Hansen each tallied nine.