Little Giants Face St. Thomas Challenge
by Howard Hewitt • December 2, 2015

Share:
Any serious D3 football fan can name the so-called "Purple Powers." That's easy, Mount Union and Wisconsin Whitewater have owned the D3 national championship for the past 10 years. But there is another purple power awaiting the Little Giants this weekend.
St. Thomas is 12-0, No. 3 ranked in the nation and a perennial contender. And yes, they wear purple. The Tommies won the Minnesota Intercollegiate Athletic Conference title and dominated the all-conference teams.
There are, arguably, similarities between St. Thomas and 12-0, No. 7 Wabash. "They're really good, as you would expect," Little Giant Coach Erik Raeburn said. "They're number one in nation in scoring offense. They're number two or three in defense. They're really a physical team, big-huge guys up front. And then they have a four-year starter at quarterback. They're a run-first team but their quarterback is a good player, really experienced guy.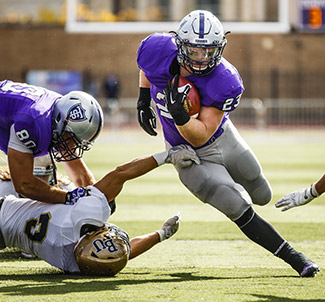 "Defensively, when our all-conference list came out it seemed like every starter on our team was first or second team. Their conference was exactly the same."
There is an inequity in enrollment. While Wabash hovers around 900 students, the Little Giants will again face a third-round D3 opponent with more than 10,000 students.
It doesn't take long looking at the two teams to see line play could be the determining factor.
"They've got some big guys up front and they're really fast," Raeburn said. "They blitz all the time, their corners were both first-team all-conference. They really feel like those two guys can take away the outside receivers and let their linebackers and safeties and linemen get after the quarterback and play the run. They make it tough to run and get most teams to be one dimensional and then they just start sacking your quarterback.
"But if you make it to the Elite 8 you kind of expect when you put the film on that they're going to be pretty good."
The Tommie attack starts with a huge offensive line which averages just over 300 pounds a man. Junior Jordan Roberts has carried the ball 276 times this season for 1,640 yards and 28 touchdowns. The top receiver is Nick Waldvogel with 52 catches, 704 yards, and three touchdowns. The Tommies' key receiver may well be senior tight end Charlie Dowdle, a 6-4, 238 pounder. The senior has 32 catches, 709 yards, and eight touchdowns.
Defensively, the Tommies are anchored by linebacker Steve Harrel with 73 tackles. Linebacker Tim McClanahan and Jesse Addo add depth and speed to a powerful linebacking corps.
The Tommies' closest game of the year was last week's round-two win over arch-rival St. John's, 38-19. They've scored 80 points once this season and 78 in another. They average more than 50 points per game with an attack that is balanced between the rush and pass. The Tommies run for an average of 258 yards a contest and pick up an average of 290 passing.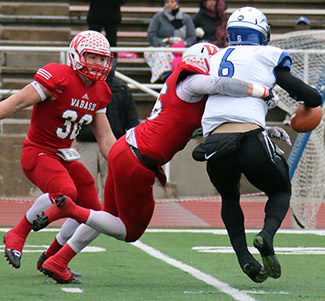 Wabash counters statistically with an offense that average 41 points a game while holding opponents to just under 10 points a contest. The Little Giants have rolled to 270 rushing yards a contest with 197 passing yards.
The Tommies are prone to penalties while the Little Giants had turnover problems last week. "Obviously, we feel pretty fortunate to win last week with the six turnovers," Raeburn said. "I can't think of a single time that's happened in my lifetime. We cannot turn the ball over against them. I think rushing offense and rushing defense will be key. We like to run the football and they like to run the football too. Both defenses have been outstanding against the run so I think whichever team plays the best and wins the rushing battle, will probably have the best chance of winning the game."
The Little Giants pin their hopes on its all-conference offensive line and the torrid pace set by running back Mason Zurek. The senior averages 161 yards a game and is coming off a string of three games where he has run for almost 800 combined yards.
The Tommies play in 5,000-seat O'Shaughnessy Stadium on a FieldTurf surface at Palmer Field in St. Paul, Minn.