Wild Ending Sends Little Giants to Minn.
by Howard Hewitt • November 28, 2015

Share:
What is it about second-round NCAA playoff games at Hollett Little Giant Stadium? It was a come-from-behind win on a 2-point conversion over North Central in 2011. Saturday's come-from-behind overtime victory over No.9 Thomas More was thanks to a fumble recovery and 75-yard touchdown return, 33-27.
Wabash trailed 27-13 late in the third quarter. Wabash's defense stepped up in a big way to shut down the potent Saints' offense and then turned in the game-winning play. Tied at 27 all in overtime, junior L.V. Bowden crashed into Saints' quarterback Brenan Kuntz causing a fumble. Ethan Buresh was right there to pick up the loose ball and run 75 yards for the score.
The win sends 12-0 Wabash to St. Thomas (St. Paul, MN), for a Saturday clash with the Tommies. Thomas More finished its season 11-1 after dominating the first half. Mason Zurek had another huge day with 183 yards claiming another Wabash record.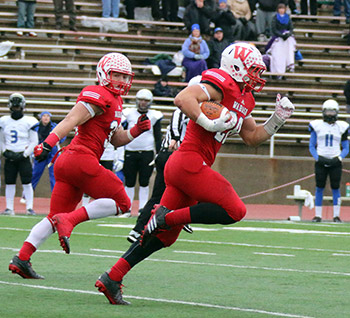 Consider the lopsided emotions of Saturday's game. Wabash trailed 27-13 at half. Wabash's defense had not surrendered more than 18 points in a single game all season. The Little Giants suffered through four interceptions, two fumbles, and 6-of-17 third down conversions. Thomas More scored on an 80-yard punt return to add insult to injury in the first half.
"We had six turnovers and gave up a punt return for a touchdown so we did all the things you typically do when you lose a football game," Coach Erik Raeburn said. "But our guys kept battling particularly defensively. We played great in the second half and obviously during that overtime period.
"Our guys have that Wabash Always Fights mentality, despite not playing a perfect game they found a way to scratch out a victory."
The game's biggest – and easily most memorable moment – will be the final sequence. After Andrew Tutsie connected on his fourth field goal of the day the stage was set for some type of dramatic finish. The Saints picked up a first down on a Kuntz to Tyler Vogelpohl pass for 10 yards. They were in easy field goal range from the 12 with a first down.
But on that first down no one blocked Bowden who hammered the quarterback and the ball popped loose. Buresh was right on the ball, picked it up and raced down the sideline with only an offensive lineman in pursuit.
Game over.
"The tackle came at me so I went inside," Buresh said of the final play. "I saw our linebacker come off the edge and he was unblocked and made a great play on the quarterback and made him fumble it. I just saw the ball there so I scooped it up and ran as fast as I could."
The fumble return completed the 20-0 second half rout over the stunned visitors. "I'll credit their defense for stepping it up and we weren't able to have a lot of success in the second half," Thomas More coach Regis Scafe said. "They put pressure on us when we had to throw and we had like six sacks. We never get sacks. We probably don't have six the whole year. It's a credit to their defense."
The hard-fought first half turned all Saints when Goose Cohorn returned a punt 80 yards to double up the Little Giants 20-10. Tutsie added a field goal but Kuntz hit Tyler Vogelpohl with a 28-yard scoring strike, 27-13, and the Little Giants were reeling.
Tutsie remained perfect early in the third quarter with a 28-yarder then Connor Rice scrambled to find Mason Zurek open in the end zone with a 31-yard pass. Despite several missed opportunities to take the lead, Wabash got Tutsie back on the field again with 55 seconds remaining to tie the game at 27-all.
Rice had a touchdown, was sacked three times and struggled to 19-of-41 with four interceptions. "We never give up," Rice said. "We just had to keep grinding away and playing hard. I certainly didn't help out the cause with those turnovers and picks. The defense played really well. Offensively, we were playing well but I didn't help out as I should have. I'm incredibly proud of these guys."
Receiver Drake Christen had one of his best days of the year with 9 catches for 115 yards. Zurek's 183 made him the new all-time rushing leader in Wabash College history.
"I came into the year and set goals to break the single-season record," Zurek said afterwards. "I knew it was within my grasp. I didn't think I had any chance to break the all-time record. I've met some of those guys ahead of me including Mr. Johnson. They're incredible alumni who give back to this college and I'm honored to be in that company."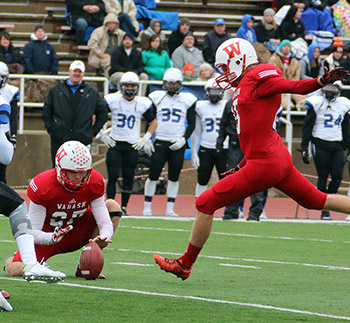 Zurek now has 3,307 career yards rushing sliding past Daryl Johnson '81 who held the second spot at 3,232 and Chris Morris '03 with 3,247.
"Records really aren't that important," Zurek said. "It'll be nice to see my name on it for a while but hopefully maybe Shamir (Johnson) breaks it next year. It would have been terrible to lose and break the record."
Wabash generated 424 yards of total offense to Thomas Moore's 270. The rushing difference proved significant with the Little Giants running up 213 yards to the Saints' 48.
Defensively, freshman Evan Hansen led the way with 10 tackles; Connor Ludwig tacked on 10 stops as well. Connor Karns terrorized the two Saint quarterbacks with four sacks.
So Wabash advances to the final eight of the D3 playoffs with a matchup against St. Thomas, most likely in St. Paul, Minnesota.
"It's a great honor, it speaks to our teammates, coaches and how hard we work in offseason to get into this position," Buresh said of next week's opportunity.
Zurek talked of motivation to have a deep run in the playoffs. "The last few years it felt like a sense of complacency. We'd win the conference, win one game in the playoffs – we tried our hardest but it seemed it sort of worked that way.
"The second big thing was a d3Football article this year in the pre-season, "Can Wabash Join the Elite? That was bulletin board material and still is. That's something that pushed us. We have a chance to make a really deep run this year."
More News
---
---
Photo Galleries

Football vs. Thomas More - 2 - TR

Football vs. Thomas More - 1 - TR

NCAA Playoffs - Wabash 33, Thomas More 27