Wabash Hosts Albion in Football Playoffs
by Jim Amidon • November 15, 2015

Share: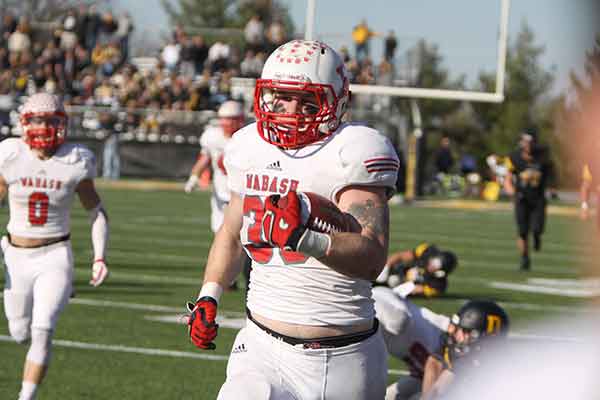 The Wabash College football team (10-0) will host the Albion College Britons (9-1) in the first round of the NCAA Division III playoffs on Saturday, November 21.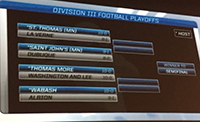 Kickoff is set for 12:00 p.m. EST at Byron P. Hollett Little Giant Stadium. Tickets are $8 for adults and $4 for students, and will be on sale at the gates one hour prior to the game. No passes are allowed.
Wabash ran the table in 2015 and won the North Coast Athletic Conference Championship for the seventh time since 2002. The Little Giants capped the regular season with a 45-17 win at DePauw to claim their seventh straight Monon Bell Classic behind the record-setting rushing of senior Mason Zurek.
When the Little Giants and Britons meet Saturday, fans will see one of the nation's top defenses against one of the top offenses in Division III. Wabash allows just 209 yards and 7.6 points per game, while Albion puts up more than 50 points (5th in D-III) and ranks second nationally with 577 yards per outing.
"Wabash has played stellar on defense all season and Albion has been strong offensively, so it should be a good matchup," said Pat Coleman of D3football.com.
Albion was once a familiar Wabash foe. The two teams met every year from 1981 through 1996, and the all-time series is almost dead even — 18 wins for Wabash, 17 for Albion, with one tie. The two teams last met in 2005 — also in the first round of the Division III playoffs — with Wabash winning 38-20.
Wabash is making its ninth appearance in the NCAA Division III tournament. The Little Giants were national runner-up in 1977, and made the tournament in 2002, 2005, 2007, 2008, 2009, 2011, and 2014. Last year, Wabash knocked off in-state rival Franklin in the first round before losing at the eventual national champion, Wisconsin-Whitewater.
"A new season starts now," said Coach Erik Raeburn, who is 76-12 in his eighth season at Wabash. "We're done celebrating the Monon Bell win and the conference championship, and now it's time to focus on getting ready for a good team in the playoffs."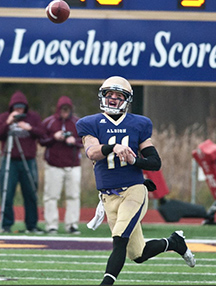 The Britons, coached by 19-year veteran Craig Rundle, shared the Michigan Intercollegiate Athletic Conference Championship with Olivet, though Albion won the head-to-head matchup to earn the automatic bid. The Britons are an experienced team with 15 senior starters.
The high-powered Britons lost to Trine 55-51 in late October, but boast an offense that scored 60 or more points in four games in 2015. Albion appeared to have the Trine game locked up — leading 44-27 with just under 11 minutes to play. But Trine rallied with 28 points in the fourth quarter, including a touchdown with 21 seconds left to seal the victory.
Senior quarterback Dominic Bona leads the prolific Albion offense with eye-popping statistics. The 5-11, 185-pounder throws for 286 yards per game and has 33 touchdowns and just six interceptions. He is also a dangerous running threat with 455 yards and six touchdowns.
But Albion is not a one-dimensional team. Senior running backs Mike Czarnecki and Colin Parks have each rushed for more than 1,000 yards. Czarnecki averages 122 yards per game and has scored 11 touchdowns, while Parks averages 107 yards per game and has scored 17 touchdowns. Czarnecki also leads the team in kickoff returns, punt returns, and all-purpose yards.
A veteran receiving corps is led by senior tight end Joe Mayone, who has caught 33 passes for 690 yards and eight touchdowns. Junior Jon Alandt has 64 receptions and nine touchdowns, while senior Chris McCall has 41 catches and six touchdowns.
Three seniors lead the Albion defense, including safety David Simon (98 tackles, 2 interceptions), linebacker Collin Ahrens (76 tackles), and lineman David Van Ittersum (35 tackles, 5.5 sacks). Sophomore safety Jeremy Shepherd leads the team with four interceptions.
Zurek set the Wabash single-game rushing record with 278 yards on 37 carries at DePauw on Saturday. The 6-2, 225-pounder scored twice, giving him 17 rushing touchdowns for the year. He now has 1,430 yards on the season — third best all-time and just 67 yards from the single-season record.
Junior quarterback Connor Rice hit 10-of-16 passes for 140 yards and three touchdowns against DePauw. He has thrown for 1,891 yards and 17 touchdowns on the year.
Wabash's defense bent, but didn't break against a talented DePauw offense. Junior linebacker Connor Ludwig led the way with 12 tackles, while Delon Pettiford intercepted two Tiger passes to go with eight tackles.
The Little Giants are in the bottom of a bracket that includes St. Thomas (10-0) hosting La Verne (8-1), Saint John's (9-1) hosting Dubuque (8-2), and Thomas More (10-0) hosting Washington and Lee (10-0).
The game will be live-streamed on the Internet at www.wabash.edu/live with the pre-game show starting at 11:30 a.m. The game will also be broadcast on 91.3 FM.
Wabash and Albion are set to renew their regular season rivalry in 2016. The Little Giants will travel to Albion next fall with the Britons coming to Crawfordsville in 2017.