Denison Win Sets Up Bell Battle
by Howard Hewitt • November 7, 2015

Share:
Wabash will enter the Monon Bell Classic undefeated after a 38-7 win Saturday over Denison.
The game D3 football fans have dreamed of for four years will finally happen Saturday at DePauw. Wabash ran the table this season with nine straight wins. The Little Giants and DePauw will play for more than the coveted Bell. The winner will get the NCAC automatic conference qualifier spot in the NCAA D3 Playoffs.
The win over Denison means Wabash has claimed at least a share of the conference title. DePauw (8-1) has a loss to Ohio Wesleyan. A Wabash win means the undefeated season is complete, the Bell stays at Wabash for the seventh straight year, and the Little Giants could be a high seed with a home playoff game or more in the NCAA Tournament.
Should the Tigers win the Bell back after a long drought, they claim the playoff spot with the head-to-head win. A playoff spot would be more than a longshot for the Tigers with two losses. And the Little Giants could be on the outside looking in with just one loss. It should make the 122nd meeting a day of high tension and excitement.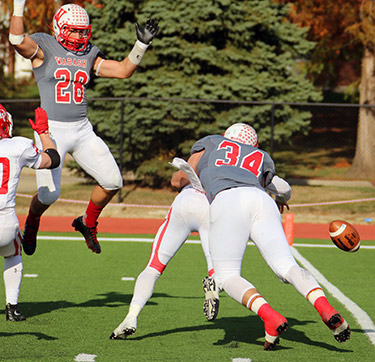 Denison entered Saturday's contest at Little Giant Stadium with a 6-2 mark and last-second loss a week ago to DePauw. The Big Red had no answers for Wabash's defensive pressure and efficient offense.
The Little Giants scored on their first possession capped by a Connor Rice 11-yard run. Drake Christen caught a 4-yard pass early in the second quarter to put the Little Giants up 14-0. Andrew Tutsie had plenty of leg on a 39-yard field goal for the 17-0 halftime difference.
Denison couldn't generate anything in the first half mustering just 49 yards of offense. The Little Giants stuffed the run effectively and battered freshman Big Red quarterback Canaan Gebele. Last year's NCAC Offensive player of the year, Dushawn Brown, had no catches in the first half and just two for 47 yards in the second half.
"I thought we played outstanding on defense on their receiver (Brown)," Coach Erik Raeburn said. "He is a legitimate guy, an All-American. He got a couple in the fourth, but I thought we did a really good job defending him. Obviously it started with having constant pressure on their quarterback and not letting them get the run game going. I thought the defense played lights out.
Quarterback Gebele was probably thinking of another sort of lights out while being hammered all game. The Wabash defense got to the freshman for 8 sacks.
"I don't think they (Denison) got a first down until, second quarter maybe," said senior defensive lineman Tyler McCullen, who led the onslaught with four sacks. "I think it was a good team win, obviously we still have some stuff we need to clean up — like the penalties. We had a lot of penalties this game.
"We knew their quarterback liked to scramble and step up in the pocket. I figured I had a chance to get a couple of sacks and that's what happened. He just kept stepping up in the pocket, we kept our pass rush lanes and it worked out pretty well."
Wabash outrushed the visitors 221-6. Senior Mason Zurek again rolled to 100-plus yards with 16 carries for 108 and a touchdown. He had a long touchdown run called back by a penalty.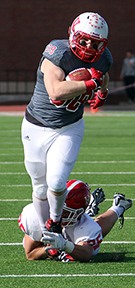 "Our biggest thing today was to prove to a team that held people to 100 yards rushing that we could run the ball on them," said Tre Taylor, a senior offensive lineman. "Our biggest goal today was to pound the defense so we could run the ball. We just like running the ball because we have a great running back behind us. That's our main goal is to get Mason in space, we just have to give him a little hole to get through and that's all he needs."
Quarterback Connor Rice had an efficient day hitting on 18-of-30 passes for 210 yards and a TD but he also rushed 12 times for 33 net yards and a touchdown.
Freshman Matt Penola, a Zionsville native, had 5 carries and 20 yards, including his first career-rushing TD to cap off the scoring.
Taylor was succinct in the Little Giants 2015 offensive approach. "It doesn't matter, we are going to run the ball," the 6-foot, 297-pound senior said. "That's our main thing is to run the ball. It doesn't matter who you are, we are going to run it on you."
One of the highlight plays of the day was an Evan Rutter sack on the Denison QB, knocking the ball loose and into the end zone where Ethan Buresh fell on it for a 24-0 Wabash lead.
Rutter led Wabash with 6 tackles and was credited for 1.5 sacks. McCullen had 6 tackles and four sacks. Connor Karns, Jalen Alston, and sophomore Deonte Simpson all were credited with being in on at least one sack.
More News
---
---
Photo Galleries

Wabash 38, Denison 7