Wabash, Zurek Rush past Ohio Wesleyan
by Howard Hewitt • October 31, 2015

Share:
Mason Zurek has been running over and through opponents all season. The conference's leading rusher ran his way Saturday into the Little Giant record book while leading Wabash to a 34-10 win over Ohio Wesleyan.
No. 9 Wabash improved to 8-0, plus 7-0 in the NCAC, after knocking off the visiting Bishops. Wabash stays at home again next week to face Denison, 6-2. The Big Red lost to DePauw Saturday on a last-second field goal.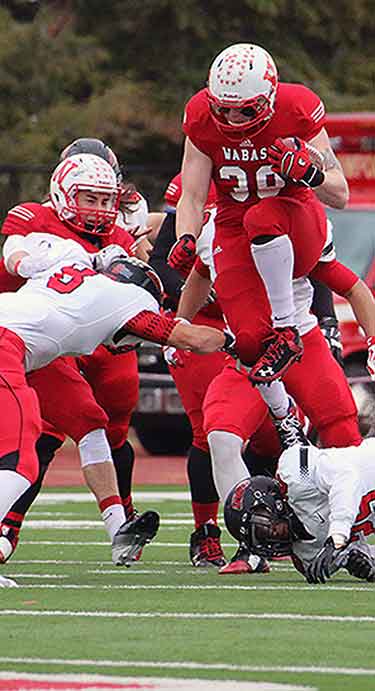 Zurek ran the ball 26 times against OWU for 145 yards and a touchdown. He also caught a pass for another touchdown. Saturday pushing him past the 1,000-career yard mark with 1,047 yards through eight games. He is just the 13th Little Giant to pass the milestone.
"I set my goal this year to try and move up to at least top five in career (rushing) and then top five in single season rushing." Zurek said. "It's a lot to get personal accolades but it's not me. I mean the offensive line has been fantastic this year with the injuries they have suffered, they are still going out every single week and playing hot. I'd like to take a little bit of the credit, but it's mostly 99 percent them."
The line found holes for the quarterback as well against Wesleyan. Rice had 74 yards running but finished with a net 51 after three sacks. Rice was 21 of 39 with 264 yards, three touchdowns, and one interception.
Wabash jumped to a 13-0 lead before TraVon Wilkes burst up the middle on a 62-yard scamper for the only Bishop TD of the game. The Little Giants picked up another score right before half when Zurek flew over the top of the pile and reached into the end zone for his second score, 20-7.
"Halfway through the game, Coach Morel, made us realize this was essentially the conference championship right now, or at least playing for it," the running back said. "We got off to a real quick lead and then it was just moving the ball and punting and they never made it close and it just started to drag on. I thought we did pretty well. We stalled after 30-40 yards each drive, so there is things to work on when it comes to finishing."
The teams played a scoreless third quarter. OWU got a field goal late before Wabash tacked on two more scores. Rice scored from three yards out and then threw a perfect ball into the corner of the end zone that Sammy Adams went up for, pinned the ball to the left side of his helmet and maintained possession to the ground for the final, 34-10.
"We really needed this game," the 6-3 junior wide out said. "We have a tough next two games, with the Bell game and Denison is a good team. We came together as a team and played well."
It was one of the biggest games of the season for Adams with 5 catches for 124 yards. He even earned Raeburn's praise, calling the receiver one of the NCAC's best. "It means a lot to me," Adams said of his coach's praise. "It wouldn't be possible for him to think that without the line, Connor, or even the other receivers. Lot of it goes to them. I appreciate the faith and confidence he has in me.
"It was a good day, I felt good. Connor threw some great balls and it was just a fun time. It was a lot of fun."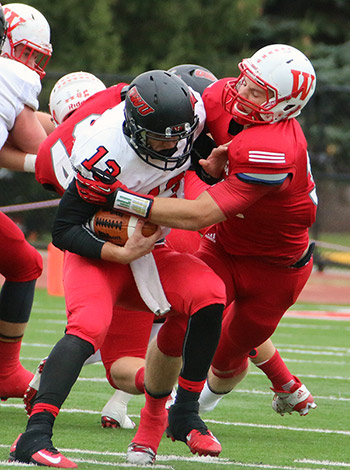 The Little Giants generated nearly 500 yards of total offense with 230 yards rushing and 264 passing for a 494 total. OWU was held to 248 combined yards. The Little Giants were penalized just once in the contest and picked off two Dominick Orsini passes.
Defensive end Tyler McCullen had an active day leading the effort with 8 tackles and three stops for a loss. Evan Rutter also recorded 8 stops. Connor Ludwig and Eddie Cmehil each had 6 tackles.
"These guys just knocked off a 6-0 team (DePauw) a week ago, we won 34-10," Raeburn said of the effort. "Is it perfect no? Are we going to beat everyone 65-0, no? So I was happy with the way we played. We certainly felt like we squandered some opportunities to score down in the red zone. I wasn't happy with our run defense in the first half but real happy with the result."
One late injury of some note. Placekicker Andrew Tutsie, who has been enjoying a great season was hurt on a late kickoff. "We are thin at kicker," Raeburn said. "That's one position you kind of hope you're going to make it without an injury. Andrew has been playing fantastic. Late in the season you're going to have injuries and guys are going to be banged up."
Punter Derek Fox was called on to kick the final extra point of the game. The ball sailed cleanly through the uprights.
"I don't feel good that Tutsie went down and got injured," Fox said of his opportunity. "You never want to see a teammate go down with an injury like that. I kicked a lot in high school, and so I know the emotion and I'm used to being out there going live."
More News
---
---
Photo Galleries

Wabash 34, OWU 10