Wade '17 Cites Moot Court Advantages
by Howard Hewitt • October 27, 2015

Share:
Junior Ben Wade credited hard work and Wabash College advantages after being named the 2015 Moot Court Top Advocate Tuesday night.
Wade edged out seniors Matthew Binder, Derek Andre, and Adam Alexander in the 22nd annual competition unique to undergraduate schools. The Moot Court is sponsored by the Indianapolis Association of Wabash Men and the College's Rhetoric Department.
"Our Moot Court shows we do have the competitive advantage over other schools, but it also speaks to the College in general that we have so many alums who are willing to come back to help," Wade said. "We had guys come from all over the state to help with the preliminary rounds. The event tonight just shows the level of care the alums have for the College."
Look for more photos from Tuesday night's Moot Court Wednesday.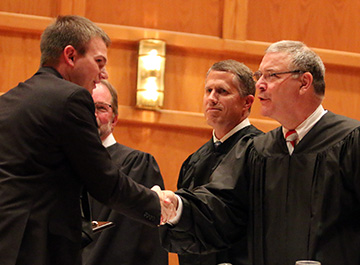 Each year the judges' panel includes at least one Wabash graduate, but this year the Moot Court featured two. Indiana Solicitor General Tom Fisher '91 returned for his second time judging the competition. Bartholomew Circuit Court Judge Stephen Heimann '77 was also back for his second appearance.
"I was a speech major and participated in extemporaneous speaking, speech and debate and that is a huge advantage," Heimann said. "But to be forced to think on your feet with some preparation — because things get thrown at you all of the time in the courtroom that are unexpected — is extraordinary. And so as far as I'm concerned, this is quite beneficial to these young men."
The 2015 case, just like most years, could have been taken from recent headlines. The case presented a challenge by several religiously identified non-profit organizations to a law requiring them to provide employees health care benefits including contraception. The case brought the Affordable Care Act and RFRA laws into the legal case.
The students come with prepared remarks, but are peppered with tough questions throughout their limited time in front of the judges' panel.
"I have oral arguments in my court at least once a week," said U.S. Magistrate Judge Tim Baker, who serves the Southern District of Indiana. "You (speaking to the four finalists) do as good or better job than lawyers that come before us. I hope you all go to law school because we could use more good lawyers. I'm extremely impressed by all four of you."
Faculty Judge Dwight Watson of the Theater Department, felt proud to join the judges. "I can only express my gratitude for how well you each performed," Watson told the four. "You honor Wabash College. You honor critical thinking."
All four do plan to attend law school after their Wabash graduation. For Wade, that means following in something of a family tradition.
"My father has been a state police officer for 20 years, so I've been around the law for my entire life," the Clayton, Indiana, native said. "That has shaped the direction I want to go. Criminal law is something I've been around, but I'm also interested in International law."
Wade said the Moot Court program and tough Wabash classes prepared him for Moot Court and a career in law. "Taking the law classes that, fortunately, the College offers, helps more than anything else. It's really a privilege we can take these classes here. I think that taking those and being able to work with Professor Scott Himsel gives us an advantage not just for competitions like this but speaking anywhere."
More News
---
---
Photo Galleries

2015 Moot Court