Wabash Day 2015 - Zionsville
• October 13, 2015

Share:
Zionsville-area alumni, and their family and friends gathered on a clear, crisp Saturday morning at the picturesque surroundings of the Morning Dove Therapeutic Riding Center. We enjoyed the fresh air and comradery of friends joined in the common purpose of completing an extensive list of construction and maintenance projects at Morning Dove's stables and riding center.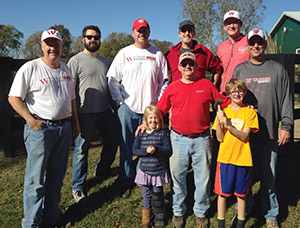 Morning Dove was founded in 1998 with the goal of enriching the lives of individuals in the greater Indianapolis community who have physical, cognitive and/or behavioral challenges by offering them equine assisted therapies and activities. Morning Dove conducts its activities on a beautiful horse farm near Zionsville.
Our accomplishments at Morning Dove included, among other things, repair of a wooden ramp used by participants in Morning Dove's therapeutic riding programs; construction of brackets to hold wooden crossbars outside the riding ring; repair of insulation in the indoor riding ring; and other general maintenance, landscaping and cleaning projects.
Volunteers at Morning Dove included project co-leaders Scott Benedict '98 and Steve Badger '87; Bill Havlin '84; Megan Havlin; Darya Mansoori; John Henry '10; James Jared '07; Scott Quick '88; Debbi Quick; Teddy Quick; and Chuck Whybrew '94.
We are grateful to Emily Keenan, Volunteer Coordinator and Development Director of Morning Dove for her direction and assistance with our varied projects.