Wabash Day 2015 - Washington D.C.
• October 13, 2015

Share: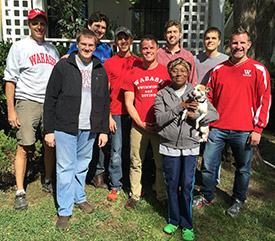 Eight members of the National Capital Association of Wabash Men (NCAWM) worked with Seabury Resource's Age-in-Place program on a beautiful Saturday morning in Northeast Washington D.C.
In addition to doing some much-needed yardwork at the home of a senior citizen, Wabash men cut down a small bamboo forest that was beginning to take over part of the backyard. Over a dozen garbage bags of yard waste were collected and ready to be hauled away by the conclusion of the project.