Wabash Day 2015 - Indy, Second Helpings
• October 12, 2015

Share: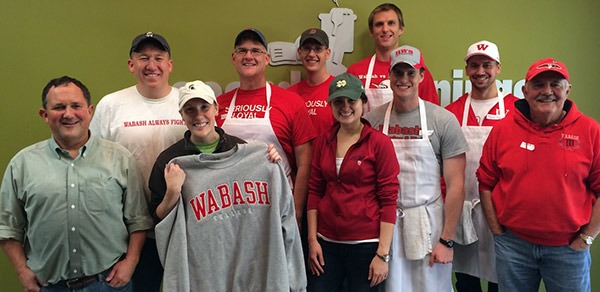 On Saturday morning, October 10, 2015, close to a dozen Wabash alumni and family volunteered at Second Helpings, and Indianapolis nonprofit tackles food waste, fights hunger, and performs culinary job training for disadvantaged adults.
Second Helpings Chief Financial Officer Mike Eline showed the group the acility that each day prepares 4,000 hot meals and distributes them to 80 social service agencies. They then went to work cutting meat, chopping broccoli, sorting dry pasta, and working in the dish room.
Through organizer Bryan Roesler '06, the Indianapolis Association of Wabash Men has partnered with Second Helpings for this W.A.B.A.S.H. Day project for several years.