Wabash Day Multigenerational Effort

Share: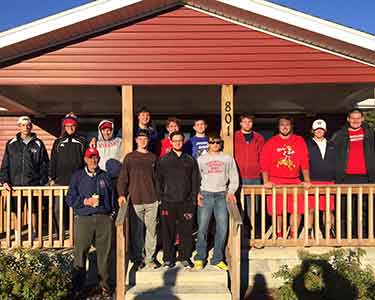 Alumni spanning seven decades came together with almost 100 current Wabash students to tackle 11 projects all across Montgomery County on WABASH Day 2015. More than 115 people took part in the celebration of community.
WABASH Day is the College's national day of alumni community service, and in recent years students have seized the opportunity to join with alumni, faculty, staff, and parents to serve Crawfordsville.
Phi Gamma Delta led the way with 31 participants and worked at the Animal Welfare League and the Lew Wallace Study. At the AWL, Fijis cleaned cages, painted, and tidied up the yard around the facility. Dale Milligan '49, the event's oldest alumnus, took a group to the Lew Wallace Study, where they built a storage shed and painted.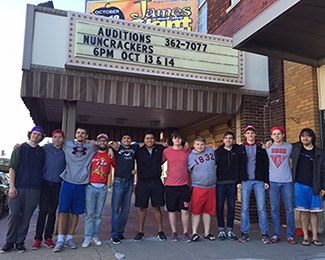 Thirteen members of Tau Kappa Epsilon did plenty of heavy lifting at the Vanity Theater. The Tekes cleaned out a furniture storage room and moved couches, beds, chairs, and set pieces. Another group organized the prop room and hauled out trash.
Lambda Chi Alpha brothers walked down to the Old Jail Museum, where each year Wabash men are counted on to clean up the yard and prepare the facility for winter.
Emeritus English Professor Tobey Herzog H'11 took the 13 Sigma Chi members to the Crawfordsville Parks and Recreation Department, where they picked up, cleaned, and prepped the park area for winter.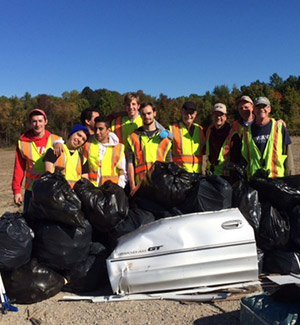 Theta Delta Chi had enough participants to split up. Half the house went with Ken Crawford '63 to the Carnegie Museum, where the group photographed and cataloged the collection with curator Kat Burkhart. Other Theta Delts joined with Sam Smith '75 to paint, do yard work, and complete some carpentry projects at Pam's Promise, which serves the community's homeless population.
Economics Professor Joyce Burnette took members of Alpha Phi Omega, the College's service fraternity, to the Montgomery County Family Crisis Center, which serves women and children who have been abused.
Mayor Todd Barton, Wabash Class of 2000, worked with men from Beta Theta Pi to pick up litter around Crawfordsville. Still more Betas helped out at Habitat for Humanity where, among other projects, they cleaned up lumber that was used for Homecoming decorations last week, but will be used for housing projects in the community.
Finally, men from Kappa Sigma joined with alumnus Bill Fell '75, Larry Paarlberg, Economics Professor Frank Howland, Elizabeth Justice, and members of Kiwanis to clean up a stretch of US Highway 136