Wabash's Complete Effort Tops Oberlin
by Howard Hewitt • October 10, 2015

Share:
OBERLIN, OH. – The Little Giants had big contributions from offense, defense, and special teams Saturday rolling past Oberlin, 55-18.
Wabash scored five touchdowns on offense, one defensive score, a punt return from the special teams and two Andrew Tutsie field goals. The Little Giants flexed their muscles on the line and on the ground with 291 rushing yards.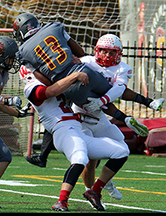 Senior Back Mason Zurek had a monster of a day with 208 yards of total offense. He rushed for 164 on 16 carries and added 44 more on a big first quarter catch. One of the biggest highlights of the day was Zurek's third-quarter, 76-yard scoring run.
"He's a big guy, he has speed as you saw," Coach Erik Raeburn said. "He can break one and go the distance. He's good between the tackles. We also feel like he's a good blocker. We feel like he is going to catch it out of the backfield if we throw it anywhere near him. He's the complete guy with a ton of experience to go with all of that talent. Any time he touches it we feel like we have a chance for some good things to happen."
Wabash put 21 points on the board in the first quarter behind Tom Garrity's 5-yard catch, Zurek's 5-yard run, and a defensive score. The Little Giant line swarmed Yeoman quarterback Lucas Poggiali in the backfield and forced a fumble. Connor Karns picked up the loose ball and went 11 yards for the score.
Poggiali was on the opposite end of a pass play after the Yeomen ran a fake that ended with a 13-yard TD throw from Justin Cruz, but the Little Giants just kept pouring it on.
The defense bottled up the Yeoman deep setting up a 30-yard Drake Christen punt return, 28-6. Justin Williams broke an 80-yard run up the middle to briefly stem the tide. But Wabash finished out the quarter with Tutsie field goals of 39 and 29 yards and the Zurek long scoring run.
Drake Christen scored on a 35-yard Connor Rice throw to start the fourth. Shamir Johnson added an 8-yard run to close the scoring at 55 points.
Raeburn had not been pleased with recent special team play but found plenty to smile about after the game. "We haven't been doing a good job on punt returns but we got some great blocks and Drake was able to bring one back. Obviously, Andrew (Tutsie) had a good day. We feel like he's had a really good season. Derek (Fox) had a better day punting today. He had one short punt but he's finally playing with a little more consistency that we thought we'd get out of him and we expect out of him."
Fox punted five times for a 35.2 average but had three kicks downed inside the 20.
Johnson had another nice complementary day to Zurek's big effort. The junior running back had 78 yards on 14 carries. Connor Rice was off target Saturday afternoon hitting just 9 of 24 attempts. Christen led all receivers with 61 yards and four catches.
Austin Brown was all over the field defensively with 14 tackles and two tackles for loss. Brian Parks had seven stops while Connor Ludwig added six. The defense sacked the Oberlin quarterback four times and added 12 stops for a loss.
Brown was proud of the defensive effort but admitted it can sometimes be a challenge to get up for each game. "You never want to overlook a team," he said. "But you kind of feel like we just have to do our thing. They came out ready. They had a pretty decent game plan on offense with quick passes. They drove on us a little bit but we were able to lock them down and do our job."
Wabash (5-0, 4-0 in the NCAC) returns home to host Kenyon (2-4, 2-2 in NCAC) Saturday for Community Day.
More News
---
---
Photo Galleries

Wabash 55, Oberlin 18