Modern Misanthrope This Week
by Jim Amidon • October 6, 2015

Share:
The playwright Molière wrote some of the greatest comedies of the 1600s by poking fun at the French aristocracy, but today's performances of that work feel stiff and often dated. The Wabash College Theater's production of Molière's play The Misanthrope is anything but stodgy.
The Wabash version, written and freely adapted by Brian Sutow, brings a fresh, modern take to the classic comedy. Audiences will recognize Molière's couplet rhyme, but in a completely different way.
Performances continue at 8:00 p.m. through Saturday, October 10 in Ball Theater in the Fine Arts Center. Tickets are free, but should be reserved in advance by email (boxoffice@wabash.edu) or by phone (765-361-6411).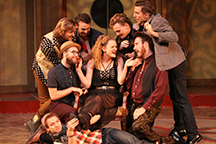 Click here for a link to the Misanthrope podcast
The story follows the misanthrope, the cantankerous Alceste, played by Jared Cottingham, as he woos the flirtatious Célimène (Brea Carlson). Alceste despises the false niceties and duplicitous behavior of "polite society," and wages a war against all things mannerly. But when it becomes clear that his beloved Célimène might be the worst offender of all, Alceste is humiliated and pushed to his limits of love and contempt.
"In Molière's day, audiences were laughing uproariously at his plays," Sutow said, "and we wanted to hold on to what made his work so wonderful, while adapting to the sentiments of a modern audience. The play's ideas about gossip, shaming and hypocrisy feel directly applicable to our current culture. Even Alceste as a comedic character feels very aligned with some of the funniest things happening in modern comedy. He's kind of like a very principled version of Larry David's character from Curb Your Enthusiasm."
Theater professor Jessie Mills is directing the play and promises the audience more than a few surprises.
"In our adaptation, we have attempted to reimagine and reinvigorate Molière's canonical play, capturing the spirit of his work while making it feel undeniably contemporary and of our time," said Mills. "To do this, we've made three radically conceptual changes. First, we cut the original three-hour show down to 90 minutes with no intermission."
Sutow and Mills then brought the 1666 production to present with the help of Donovan Whitney (Dubois) and Nathan Muha (Horace). "We added a rap to the top of the show to help audiences ease into the feel of rhyming couplets," said Sutow. "Modern audience's ears are not primed for rhymed verses, though they do recognize the performance in rap and hip hop."
"Finally, pulling from Molière's later experiments in comedy-musicals and comedy-ballets, we developed six movement sequences that will feel cinematic in nature to bring the show to life," Mills said. "So while it remains firmly a comedy of manners, the tone may feel closer to that of a musical."
Whitney steals plenty of laughs as Alceste's faithful and blundering servant. Noah Eppler (Acaste), Griffin Levy (Oronte), and Dan McCarthy (Clitandre) lead a stable of young suitors after Célimène's heart, and she is more than willing to flirt with all of them and more. Sammie Amidon (Éliante) and Megan Prichard (Arsinoé) play women who are also the targets of the young men's pursuits.
"This entire process has been an absolute delight – this ensemble is one of the most innovative, generative and collaborative groups that I have ever worked with," added Mills. "Because the students were are part of a new works process for a main stage show at Wabash, they had to navigate the exciting challenge of getting revisions, cuts, and new script pages during the rehearsal process. They got to experience how a show, from text to concept, can be built around an ensemble, where their best impulses and versions of the characters get celebrated and extended. I've been deeply impressed by the level of dedication, insight, contributions and talent they've brought to the table."
Assisting Mills and Sutow in this complete re-imagination of The Misanthrope has been junior theater major Rory Willats, who has served as Associate Director. Mills said Willats has "thrived in his role as a leader and artistic developer, and I imagine this will be the first in a very long and successful line of directing projects for him."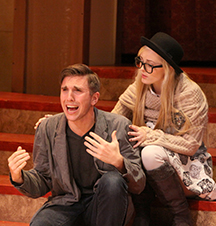 In addition to the dedication of the cast, Mills credits the production team with creating a nearly perfect backdrop to stage a modern retelling of a classic. "The fresh text and modern aesthetic is beautifully complemented by the costume design work of Andrea Bear and the set and lighting design of James Gross, with the help of Tucker Mark. They have helped to build a world that seamlessly blends 17th century France with 2015 America. The costumes are a hilarious and inspired combination of French aristocracy and modern hipster culture and the set is stunning and, at times, absolutely magical."
The cast of The Misanthrope includes Sammie Amidon (Éliante), Zach Anderson (Philante), Brea Carlson (Célimène), Quinn Cavin (Didier), Jared Cottingham (Alceste), Noah Eppler (Acaste), Brian Gregory (Severene), Griffin Levy (Oronte), Will Maloney (Basque), Dan McCarthy (Clitandre), Nathan Muha (Horace), Megan Prichard (Arsinoé), Dr. Ryan Rush (Marecel), Herchel Springer (Pierre), Chris Szostek (Beauregarde), and Donovan Whitney (Dubois).
The Wabash College production of The Misanthrope was written by Brian Sutow and freely adapted from Moliere's classic farce. The production team includes Director Jessie Mills, Associate Director Rory Willats, Scene and Lighting Designer James Gross, Costume Designer Andrea Bear, and Sound Designer Jessie Mills and Taylor Miller. D'Aireon Nunn is the Stage Manager and Taylor Miller and Kendal Baker are the sound engineers.
Below is a clip from the Misanthrope podcast:
More News
---
---
Photo Galleries

The Misanthrope at Wabash College-2

The Misanthrope at Wabash College