Little Giants Secure Homecoming Win
by Howard Hewitt • October 3, 2015

Share:
The Little Giants could have easily had a mental letdown Saturday at Homecoming after an emotional win over NCAC rival Wittenberg a week ago. Wabash cruised past 0-4 Hiram in a business-like fashion, 38-0.
No. 8-rated Wabash is 4-0 and makes a long trip to Oberlin next week. Saturday's effort played out in front of the traditionally large Homecoming crowd until the 50 degree temperature, constant light rain, and difference on the scoreboard thinned the crowd.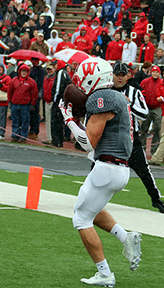 "It was more wind than what we have played in so far," Coach Erik Raeburn said. "I think that probably had more of an effect on the kicking game than anything else. I thought Connor (Rice) handled the wind, was pretty accurate with his throws. I don't think the ball got too slick, but I didn't think the weather was too big of an issue."
Rice was solid in his second straight home start. He hit on 21 of 35 passes for 184 yards, two touchdowns rushing and a 13-yard scoring toss.
"The weather was a little bit of a factor, but it shouldn't be," the junior QB said. "We just have to take what the weather gives us, and play hard. It shouldn't really matter. I thought we did a good job with the weather and handling the ball and not turning it over. I thought we played really well despite the weather."
Rice had a hand in Wabash's first three scores. He ran for five yards early in the first quarter for 7-0. The in the second quarter he connected with Drake Christen who was open in the end zone for a 13-yard TD pass. Rice ran it three yards with just over two minutes to play in the half to put Wabash up 21-0 at half.
Rice and his teammates said there would be no letdown just because of a team's record. "We can't overlook anybody," Rice said. "I'm actually really proud of how we played. Obviously, we thought we could have done a lot better. I think this was a game for us to figure out what we did wrong and keep improving. I thought through the entire game, we started off a little slow and kind of ran into some problems, but we figured it out. And that's a testament of a good team."
Both sides of the ball had big days. The Little Giants recorded their second season shutout and have allowed just 17 points all season. Hiram was the first team to finish with positive rushing yards against one of the nation's best defenses. The Terrier's numbers were nothing to get excited over though with a net gain of just 39 yards.
"We're just trying to make a statement for the rest of the conference and the nation." Defensive end Tyler McCullen said. "If the conference teams and nation see that our defense is for real, we are going to make waves and keep moving up in the rankings."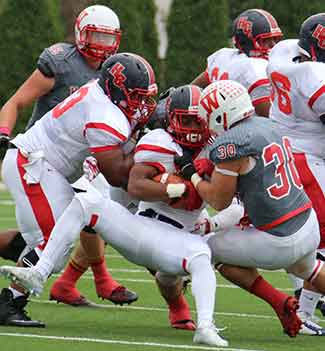 McCullen finished with six tackles, a sack and two tackles for a loss. Freshman Evan Hansen led the Little Giants with eight stops. Connor Ludwig added five tackles and A.J. Clark had four stops. Hiram mustered just 137 yards of total offense – the 39 running and 185 yards in the air.
Mason Zurek and Shamir Johnson teamed up again to create a thunderstorm for opponents. Zurek carried the ball 29 times for 156 yards and a 7-yard touchdown. Johnson had 15 carries for 108 yards and a 21-yard TD.
Receiver Drake Christen had by far his best game of the young season. The junior pass catches had 12 receptions for 119 yards and a score.
Junior Andrew Tutsie was perfect on his extra points and nailed a 34-yard field goal, with plenty of leg to spare, in the third quarter.
Now that Wabash has disposed of the Terriers the long trip to Oberlin, near Cleveland, OH, is next on the schedule. The Yeoman are also struggling with a sub .500 record.
McCullen admitted there is a big leap from a packed house and beating Witt to facing a winless Homecoming opponent.
"Obviously the atmosphere is different," The Arizona native said. "That's one of the things we stressed this week and for the rest of the year, is we have to keep the atmosphere up, because we don't want a repeat of my freshman year, losing to teams we are clearly better than. So we just have to stay up for every game, and treat every game like it's for the conference championship."