Little Giants in Hunt for 4-0 Start
by Mason Asher '18, The Bachelor • October 1, 2015

Share:
Wabash's Little Giants will try to avoid the cliché' of falling into a trap this week after knocking off rival Wittenberg. The 0-3 Hiram Terriers pay a Homecoming visit at 2 p.m. Saturday afternoon at Hollett Little Giant Stadium.
After its most recent victory over Witt, the team's new goal is win out the rest of the way. Though winless, Hiram does present some challenges.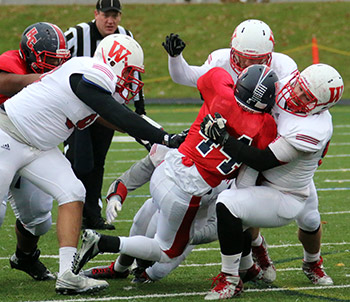 Hiram has a few different looks than Wabash is used to seeing. Hiram runs an odd front defense, which essentially is playing with three down linemen rather than the more typical four down linemen most teams use.
"They play mostly odd front and we have not played a team that plays that much odd front," Coach Erik Raeburn said. "The last two weeks both teams jumped into it some but we have to handle it and it gives them the opportunity to bring a lot of pressure."
"We are mostly working on that approach," Junior defensive back Austin Brown said. "It is different from last week."
Last week, Wabash forced six turnovers while only committing three penalties. The team hopes to carry that aggressive defense and disciplined play over to the game against Hiram. Another positive was the Little Giants' pass defense was very good against Witt's prolific passing attack, allowing just two touchdown passes and forcing four interceptions.
The defense will have to be good again, as Hiram has a good quarterback and two explosive wide receivers who can get behind the defense in a hurry.
Wabash's passing game emerged in a big way against the Tigers last week. Raeburn only had good things to say about last week's starter Connor Rice '17.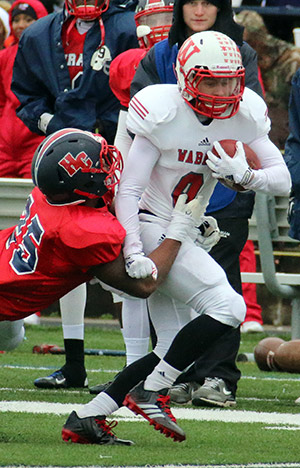 "I felt like he played well and he earned the right to start," Raeburn said. "He made some good throws down the field and there were two or three plays where he got pressured and extended the play outside the pocket and then made a good throw down the field."
After a big win, Wabash still has things they need to work at. There is not a big weakness on the team anywhere, but every team still needs to work on the fundamentals in order to perform flawlessly.
"It is just the little tiny things that can jump up and get you," Raeburn said. "On the offensive line, we took a couple bad sets in tackle, inside our footwork was not as good as it could be on some run game stuff. We go through every position and find the little things, but there was not one thing that I thought was awful. It is more paying attention to the little things."
In 2012, the Little Giants also beat Wittenberg, but could not stay focused but dropped games to Allegheny and Oberlin. The Little Giants will most likely have to win out to keep themselves in first place in the conference.
"(Our focus) has been excellent," Raeburn said. "We have had two long away trips and we have handled it well. They have had a championship caliber focus this year"
"My freshman year, we did not keep focus for two games and it cost us a conference championship," Brown said. "We are not going to let that happen again."