Little Giants Manhandle Wittenberg
by Howard Hewitt • September 26, 2015

Share: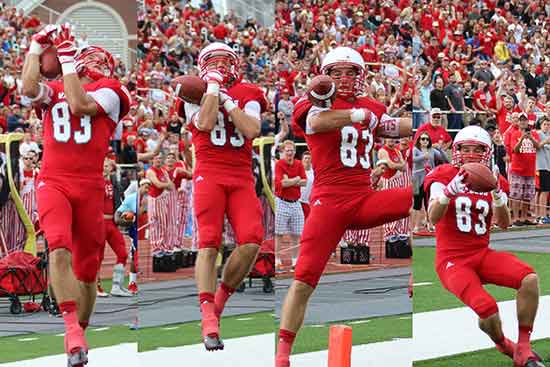 Wabash's big 42-14 win over Wittenberg Saturday afternoon brought celebration and a sigh of relief. The Little Giants broke a two-game losing streak to their NCAC nemesis and did it in dominating fashion.
The win not only snapped Witt's two-game streak over Wabash but ended the Tigers' 23-game NCAC winning run. The 42-14 margin of victory was the largest for Wabash over Witt in the series' history. Wabash improves to 3-0 and will host Hiram next week for Homecoming while Witt (2-1) hosts Wooster..
As opposed to last year's tough loss with self-inflicted wounds, Wabash capitalized on four interceptions and three fumbles to score 28 points on turnovers. See game photos here, here, here, and here - Senior Day photos here.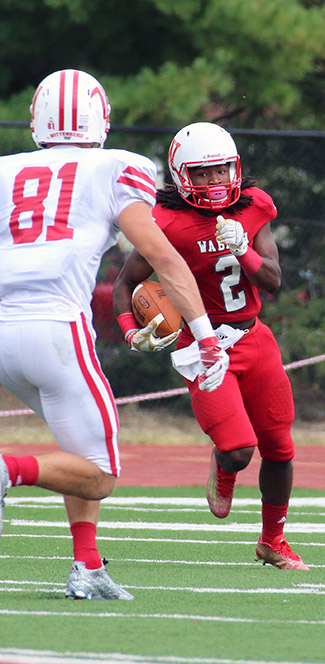 "When you lose and you feel like you played your tail off and the other team just beat you it sucks but it's a little easier to get past," said Wabash Coach Erik Raeburn. "But when you feel like you just gave the game away and didn't play your best and lose, it's really tough to swallow. If we played great today and we lost it would be painful but not as bad as it was last year when we just felt like we squandered so many opportunities."
Junior Connor Rice got the start and took every snap. He capitalized with 218 passing yards on 11-of-19 and three touchdowns tosses.
"Ever since my freshman year we've wanted to beat these guys," the lefty said. "They're a great football team and always give us a great fight every year. This is for every senior class and goes to guys like Cody Buresh ('15) and guys like that. It's for these seniors now too like Michael Putko. These seniors have given such great leadership to this program. I'm so happy for them."
Rice got the LGs started after the first Wittenberg fumble. Rice threw a bullet into the corner of the end zone that Sammy Adams snared then danced to get both feet down, 7-0.
"Sammy was supposed to run a bubble route," Rice said. "The play was not supposed to go to him. I just saw him go and with Sam, he's a big guy and I trust him with anything, so I just threw it up to him and knew he'd make a play. He's a great receiver and he just made a great play."
The game stayed 7-0 until late in the first half when both teams scored. Rice came out firing with just over five minutes in the first half. He hit Matt Dickerson for 25, rushed for four yards, then found Dickerson again, wide open, at the goal line. Dickerson performed a bit of a juggling act with the ball but gained possession as he fell into the end zone for 14-0.
The reigning NCAC offensive player of the year, Witt's quarterback Zach Jenkins, got busy completing four passes before connecting with Luke Landis along the back line of the end zone for the halftime 14-7 difference.
Neither team scored in the early going before Rice hit a very wide open Kirby Cox for a 61-yard score with 5:13 to play in the third, 21-7, but Witt responded. Landis caught another Jenkins' toss to keep Witt in striking distance, 21-14.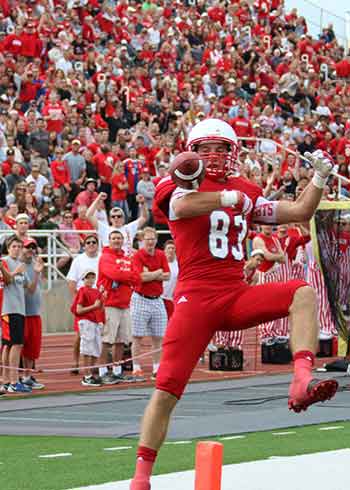 But the fourth quarter was all Wabash as the powerful offensive line and romping defense just took over. Shamir Johnson scored on a 34-yard run, Brian Parks brought an interception to the power plant for 35-14, and Little Giant stadium was rocking. Johnson added a 10-yard run to cap the scoring, 42-14.
Meanwhile, Jenkins was being battered. He was sacked seven times and hit many more. He threw four interceptions. Defensive tackle Evan Rutter was in the right place at the right time for one of those picks.
Rutter, an Indianapolis Roncalli grad, thought his LGs wore Witt down. "I think especially their defense. Our offensive line — we were pounding them the whole game. I think their defense was showing more than anything how tired they were. We knew their quarterback is a gunner — he's got an arm — so we knew if we could get hits on him, which I felt like it showed, he was getting up slow towards the end of the game. I don't think he wanted to be out there anymore."
Parks, a 5-foot, 7-inch sophomore from Indianapolis' Arsenal Tech, was all over the field defending passes and caught three of Witt's for himself.
The diminutive Parks was shaking his head after the game. "I don't know how it happened," he said with a grin. "I was just in the perfect position every play I guess. All praise goes to God, I couldn't have done it without him."
Coach Raeburn was thrilled for Parks and very satisfied with the overall defensive effort.
"We knew they were going to complete some passes which they did but just really proud we were able to get some pressure on him and then the secondary did a great job of breaking on the ball," Raeburn said. "I'm really happy for Parks to have a big game. He's worked his tail off. We knew he was going to be a good player when he was a freshman but he's really developed and worked on his technique.
Coach Jeff Franklin has done a great job with those guys being a former corner himself. He's really coached up those guys and helped them out with their techniques."
The statistics were surprisingly lopsided for a Wabash-Witt game. Wabash had 399 total offensive yardage to Witt's 293. The Little Giants rushed for 210 yards to Witt's 86. Wabash had just three penalties to Witt's four.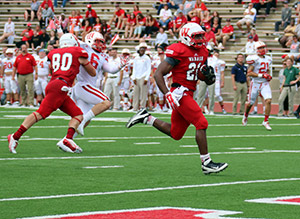 Johnson had 98 yards on 18 carries. Mason Zurek had 54 on 15, all in the first half before leaving with an injury. Sophomore Tom Garrity, a Western Boone product, led Wabash with 65 yards on four catches. Dickerson had two catches for 46 yards and Adams hauled in 2 for 29. Cox had just the one catch but for 61 yards and LG's third score.
Witt's Jenkins was 26-of-45 with four picks. He had two touchdowns on 267 total yards and was sacked the seven times.
Defensively, Connor Karns was a menace with 12 tackles, 2.5 sacks, and 3.5 tackles for a loss. Delon Pettiford had 7 tackles. Ethan Buresh, Parks, A.J. Clark, and Evan Hansen all had six stops apiece.
This NCAC heavyweight bout usually determines the conference championship. But the earlier date means neither team can look ahead. Wabash has improving Denison down the road and the unpredictable Bell Game to wrap up the season.
But it will be hard for Wabash players to not enjoy this one for a few days.
"It's more relieving than anything," Tackle Rutter said. "It's a huge weight off our shoulders. It was just kind of like the elephant in the room. We know that in the past it has been the conference championship game and so it's kind of like a weight off our shoulders so we can get this out of the way. We just made a couple mistakes in the past, especially on special teams, we knew if we eliminated those, we knew we could handle them today."