Witt Arrives Early for Showdown
by Mason Asher '18 • September 25, 2015

Share:
It's Witt week. The dominant teams of the North Coast Athletic Conference square off at 1 p.m. Saturday at Little Giant Stadium.
Both teams are 2-0 and only these teams have won a outright conference championship since 2003. Last year, Wabash lost 21-15 in a game where turnovers and penalties were the difference. This year though, the Little Giants hope to change that.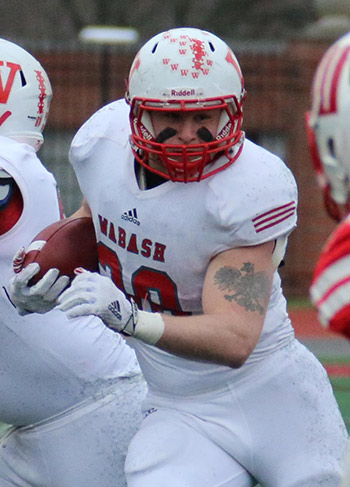 "It will be our most difficult test to this point in the season," Coach Erik Raeburn said. "We have a great rivalry with them. It is an important game and a little unique that it is hap­pening so early, not as much of a con­ference championship on the line feel. The game is always a battle, we will have to play our best."
Senior wideout Matthew Dickerson '16 agreed it's a big week. "They talk a lot of trash, they do everything they can to get under our skin."
Wabash won easily at Allegheny last week, dominating both sides of the ball, picking up 529 yards while only allowing Allegheny 56 yards.
"I thought we played really well," Raeburn said. "I was very happy and defensively we had another great per­formance. We were able to take away the run and make them one-dimen­sional and they could not ever get on track. I thought we did a much better job of taking care of the football."
Coming off of a 35-3 win versus Hampden-Sydney and a 54-0 blowout at Allegheny, Wabash looks to do much of the same against a Wittenberg that returns their high-powered aerial attack. Wabash has had a lock down defense, allowing a total of only 140 total yards of offense while holding rushers to negative 41 yards on the ground.
"Their quarterback is Player of the Year and they return two all-conference receivers," Raeburn said. "They are off to a great start and have been locked in passing the football as well as having probably the best one-two punch at running back in the conference."
On the offensive side of the ball, Wabash has been solid, gaining 935 yards of total offense and dominat­ing the trenches with 542 rushing yards. But offensive turnovers may hurt the Little Giants against a stout team such as Wittenberg. Wabash has ran the ball successfully against the Tigers the past two years. Mason Zurek is sure to carry the load Saturday.
Wabash has turned the ball over five times in two games. Wabash has also com­mitted 15 penalties for a total of 127 yards. Those two categories could be the deciding factor facing the Tigers.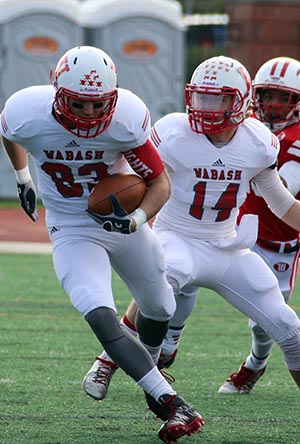 "Every game comes down to turn­overs," Raeburn said. "If both teams take care of the ball then the game will come down to special teams and penalties. They have done a better job in those areas the last two years than we have."
Last year Wabash went on the road to Wittenberg and lost 21-15. The game was close despite two Wabash turnovers to Wittenberg's zero. Ten penalties for 105 yards didn't help the team either. Wabash also turned the ball over on downs twice in the final quarter of play. Those factors hurt Wabash's chance of winning.
"Since our freshmen year we have not won so beating them would almost make our season," Dickerson said. "If we beat Witt the next step is to win the Bell and then the national championship.
It is the biggest game of the year in terms of importance because the weekend's game will probably determine the con­ference championship, as it has the past 12 years.
"If they are going to beat us they are going to have to do it out of their talent, not because we failed," Dickerson said. "We need to be mentally locked in and focused."
Wittenberg is coming to town Saturday and the Wabash faithful will be ready.
"We have lost to them the last two years and it will be special for the guys to come out of there with a win," Raeburn said.