NSF Grant Spurs Communication
by Richard Paige • September 24, 2015

Share:
Wabash College professors Laura Wysocki and Sara Drury were awarded a National Science Foundation grant to study the effective communication of scientific research.
The two-year, $208,954 grant covers the research work for Wysocki and Drury as they develop innovative educational units to promote science communication skills among chemistry majors that will enable them to translate complex concepts or results into understandable terms for the general public. The effort also hopes to increase the ability of non-science majors to understand the importance of research and evidence in public decision making.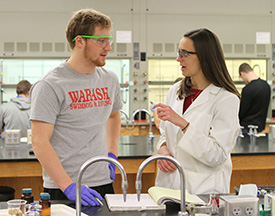 Both goals will be achieved through training of faculty in science communication, a series of written- and oral-based activities throughout the chemistry curriculum, providing extracurricular opportunities for student engagement with science communication issues, and supporting student-run events that promote discussion of the broader impact of science in the community.
"One of my primary goals is to ensure that Wabash graduates have the skills they need to succeed as a whole person," said Dr. Wysocki, Assistant Professor of Chemistry. "The National Science Foundation recognizes the educational value and the broader impact inherent in preparing our chemistry majors to communicate more effectively with the general public. It also provides opportunities for our students to engage in important conversations on campus, be involved in the research we will be conducting, and participate in conferences and workshops that will share what we learn with others."
This joint effort of the chemistry and rhetoric departments will span the entire chemistry curriculum and will develop valuable skills in students to create well-rounded citizen-scientists who can competently serve as leaders for their communities and their governments in the future.
"This grant focuses on an interdisciplinary, liberal arts effort to connect chemistry and rhetoric inside and outside Wabash courses," said Dr. Drury, Assistant Professor of Rhetoric. "Communicating scientific knowledge is an important part of addressing public problems in our society. This grant provides opportunities for Wabash chemistry students to learn, practice, and apply science communication practices whether they are majoring in chemistry or taking a chemistry course as part of the liberal arts and science curriculum at Wabash College."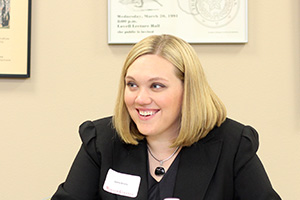 The interdisciplinary approach of this project will provide students early in the curriculum with exposure to the language of chemical research. More advanced undergraduates will engage in translational science communication activities, public presentations of scientific news items, and will receive guidance via evaluation of oral communication through senior comprehensive examinations.
Faculty professional development will be achieved through a series of summer workshops for Wabash College Chemistry faculty and chemistry faculty members from a diverse group of other institutions, including two-year colleges. Additionally, materials and outcomes generated by the project will be disseminated through conferences and workshops to encourage and equip other faculty to integrate science communication into their curricula.