Comedian David Drake Friday Evening
• September 23, 2015

Share:
Wabash College's Visiting Artists Series will present comedian David Drake at 8 p.m., Friday, Sept. 26, in Salter Concert Hall in the Fine Arts Center.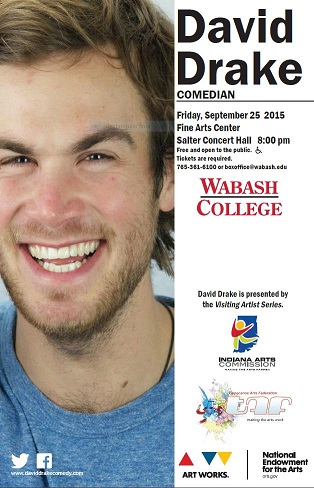 The Chicago Reader calls David Drake "a quirky magnetic cross between Jack Black and Bobcat Goldthwait." Since moving to Chicago in 2010, Drake has been invited to perform in over two-dozen national festivals. He has been featured in Comcast's televised stand-up specials "Who's Laughing Now?" and "Trial by Laughter" in addition to the College Humor Live show at the UCB Theater in New York. Last year he was named one of "10 Comics to Watch Under 30" by Complex Magazine, and the Chicago Tribune called him an "affable new face we won't soon forget." He is the co-founder of the very popular stand-up comedy showcase The Blind Bet, a cast member at ComedySportz Chicago, and he just finished recording his debut album 'Dave' which will be available on iTunes later this year.
The Visiting Artist Series is funded in part by the Indiana Arts Commission, Tippecanoe Arts Federation, and the National Endowment for the Arts.
Seating for Visiting Artists Series events is by general admission, though free tickets are required.
Contact the Fine Arts Center Box Office by email at boxoffice@wabash.edu; or phone: 765-361-6411. The box office will open 90 minutes before curtain time for Visiting Artists events. Tickets not claimed at the Box Office 10 minutes prior to curtain will be released to the general public.