Little Giants Ready for HSC Trip
by Brent Harris • September 3, 2015

Share:
Every Division III football team dreams of traveling to Virginia in December to play in the NCAA Championship game in Salem. For Wabash College, that dream begins with a trip to Virginia Saturday for the second Gentlemen's Classic versus Hampden-Sydney College.
The two all-male colleges meet for the second consecutive season. Wabash won last year's inaugural affair 34-21.
Hampden-Sydney lost 12 offensive and defensive starters from last year's squad, including All-Americans Holten Walker and Nash Nance. Walker caught 10 passes for 168 yards and two TDs versus Wabash. Nance completed 24-of-37 passes for 247 yards and the two scores to Walker while rushing for a third touchdown. The Tigers finished 7-4 last year and earned the Old Dominion Athletic Conference automatic bid to the NCAA tournament, losing to Wesley in the opening round.
"Hampden-Sydney has won three conference titles in the last four seasons and is a playoff experienced team," Wabash coach Erik Raeburn said. They graduated two exceptional players at quarterback and receiver. I saw an interview with their head coach (Marty Favret) and he felt like his team would not miss a beat on offense. He believes their starting quarterback this year has a stronger arm. We have to be ready for another great quarterback and more complete package of receivers. We expect to see a lot of pressure from their defense. We will have to play exceptionally well to handle the type of pressure they can put on your offense, particularly this early in the season."
Junior Edgar Moore takes over at quarterback. He appeared in four games last season in relief of Nance, completing five of 12 pass attempts for 44 yards. Michael Mey is the top returning wide receiver. He caught 26 passes for 472 yards and four TDs. Owen Costello finished the 2014 campaign with 23 receptions for 169 yards. Hampden-Sydney also lost its top-six rushers from last season. Costello is the leading returner, but only carried six times for 24 yards. Junior Jovan Burton is tabbed as the starting running back.
Graduation also hit the Tigers' defense hard with only five starters returning. Sidney Henry earned Second Team All-ODAC honors at cornerback in 2014. He recorded 67 tackles and three interceptions in 11 games for the Tigers. Senior linebacker Nick Martin finished second on the team in tackles with 72 and made 7-1/2 tackles for losses with 1-1/2 sacks last year.
In contrast, Wabash enters the contest with a veteran group of players from last year's 10-2 squad that advanced to the second round of the NCAA playoffs. Eight starters are back on offense, led by Putko and all five offensive linemen. Wes Brown and Deryion Sturdivant posted all-conference worthy seasons in 2014 and will anchor the tackle spots. Kyle Stucker moves to center, opening space for sophomore Tim Leath at right guard. Tre Taylor – a three-year starter — and Jordan Culp will battle for the final starting guard spot.
"Having a group of offensive linemen who have played together has been an enormous help heading into this game," Raeburn said. "Last year was their first opportunity to play together as a unit, and we had a lot of question marks heading into the season. This year is a different story. Their experience has really shown in the first few weeks of practice."
Mason Zurek will start at running back for the Little Giants. He rushed for 835 yards and a North Coast Athletic Conference best 12 TDs last year, earning First All-NCAC honors despite playing behind fellow First Team back Tyler Holmes '15. Matt Gibson and Shamir Johnson join Zurek at running back.
Putko and Connor Rice will rotate at the quarterback again this season. The duo combined for 1,932 yards and 22 TDs in 2014, and have both been named captains for this year's campaign. A favorite target for both quarterbacks last season was Drake Christen. The converted QB paced the Wabash receiving corps with 73 receptions for 973 yards and nine TDs last year. Christen is joined by Sammy Adams, a 12-game starter in 2014 who caught 28 passes for 320 yards and four scores.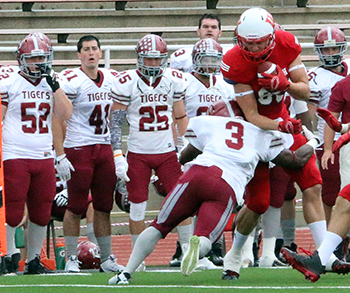 "Our offense should be able to provide good balance this season," Raeburn said. "I think Mason can be not only one of the best running backs in our region, but can also be among the top rushers in country. Rotating quarterbacks is never an ideal situation, but Michael and Connor have handled it well. Drake Christen done a great job making the change from quarterback to wide receiver and should be poised for another great year."
The Wabash defense ranked among the nations' best for the second consecutive season. The Little Giants finished first in rushing defense (66.3 yard per game allowed) and sacks (4.58 per game). Buresh garnered preseason All-America honors from D3football.com after ranking among the nationally leaders in sacks and tackles for losses last year. Austin Brown led the Little Giants in tackles in 2014 with 101 and also hauled in three interceptions.
Other returning starters include Delon Pettiford along with co-captains Tyler McCullen and Evan Rutter, and Eddie Cmehil. Jalen Alston, Deonte Simpson, LV Bowden, Connor Karns, Connor Ludwig, and Brian Parks also saw significant playing time last year and are slated to start Saturday.
"Our defense has been quick and aggressive and that will hold true once again this season," Raeburn said. "We've been fortunate that several of our players who will be stepping into starting roles this year – guys like Karns, Ludwig, Alston, and Simpson — have been part of our regular defensive rotation and bring a lot game experience to the field."
Kickoff Saturday is set for 1 p.m. The game broadcast by the Wabash student radio station, WNDY (91.3 FM) begins at 12:30 p.m. with an Internet streaming feed available, as well. Hampden-Sydney will provide a video stream, along with live statistics.
The Little Giants start their trip Friday morning and return late Sunday. Besides Saturday's Gentlemen's Classic, the student athletes will visit Arlington National Cemetery and the Washington D. C. Mall Sunday before flying home. Follow daily updates of the trip on social media by using the hashtag: #WAFHSC