Fraternities Claim National Honors
by Richard Paige • August 27, 2015

Share:
A trio of Wabash College fraternities garnered chapter and individual honors over the summer.
Phi Gamma Delta won the Jordan Bowl, which is given to the chapter that is judged to have achieved the highest comparative scholarship for the previous school year. The Psi Chapter at Wabash topped 139 chapters nationally to win the award for the first time since 2001.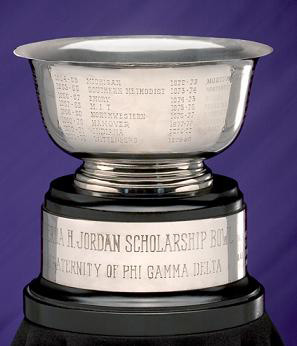 "We are honored, humbled and very proud of our accomplishment as it took each and every brother's effort to win the Jordan Bowl," said chapter president Michael Haffner '16. "It is gratifying to receive such positive feedback and we will continue to strive for excellence both in the classroom in the community."
Awarded annually since 1948-49, Wabash has claimed the Jordan Bowl seven times, third most of any chapter nationally. The Psi Chapter claimed the honor six times between 1991 and 2001, including four consecutive years from 1995-98.
Theta Delta Chi received a citation for excellence in campus involvement during the 2014-15 academic year, one of eight bestowed nationally each year. The College's Upsilon Deuteron Charge is routinely a top-ranking chapter among the fraternity's 31 active charges across the country.
U.S. Rep. Todd Rokita '92 (R-IN 4th District) received Sigma Chi's Grand Consul Citation, which recognizes outstanding service to the fraternity, at the organization's Balfour Leadership Training Workshop. The award recognizes outstanding service to Sigma Chi and is chosen by the national fraternity president.