OLAB Tackles Labor Negotiations
by Richard Paige • July 15, 2015

Share:
The headline of The Wabash Street Journal said it all: UEW Strike Threat Real!
Inside negotiations were tense. "I want employees to be happy. I also want them to be more productive," a management representative said sternly.
"You know what will help productivity," a union representative shot back. "Breaks, vacation, and higher wages."
Such was the morning session for OLAB (Opportunities to Learn About Business) students as they were introduced to the high-pressure world of labor negotiations.
The 52 participants were divided into 11 teams earlier in the week, absorbing sessions on topics like production, accounting, marketing, advertising to go with lectures and game playing, which allows students the ability to put what they've learned into practice.
Today, the students got a history of labor unions and then it was into negotiation sessions with the goal being to get the best deal for their fledgling and fictitious cell phone industry companies.
The teams had roughly two hours to get a deal done.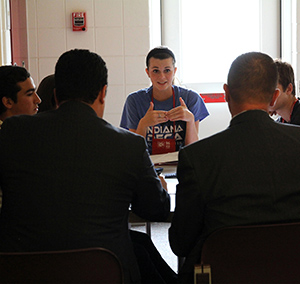 During negotiations, only one team member is allowed to speak for management. Participants learn very quickly the responsibilities of running a business with a strong union hand. It's the first time that they've had to think of employees; much of the focus to this point was on concept development.
There is a complexity in this exercise. A bad deal won't cripple a company, but it will affect the team moving forward in the competition.
When it comes to getting a good deal, the labor representatives –a group of 13 alumni and business leaders – certainly don't make things easy.
"We try things to take them off their game and they start getting confused," said Scott Benedict '98, CEO and Chairman of the Board of Tx:Team, a rehabilitation services provider who served as a labor representative. "That's what a real negotiation looks like. This might be a little absurd in some cases, but it is meant to teach them. The better they do, the better the deal they will get."
It's learning on the fly for all of the team members, and the negotiations run the gamut from staunchly hardline to overly accommodating. It takes time to find the proper balance.
"Their real task is to not get distracted and understand what metrics matter for their company," said Tim Craft '00, a Senior Associate at CBRE, Inc., and another labor negotiator. "About 90 minutes in you see the wheels start to turn that they understand, 'Oh, this is what we are really talking about.'"
Benedict agreed enthusiastically. "The learning curve is like this," he said as his hand rose steeply upward. "They start to see what matters and it just takes off."
Ashley Joseph handled the negotiations for her team. Despite being nervous at the outset, the native of Terre Haute, IN, managed a favorable deal for her team.
"I never thought I was coming to camp to be beaten up by negotiators," she laughed. "There is a lot of pressure that comes with this. There are so many things to focus on while dealing with this stress. It's definitely a good and realistic learning experience."
Such experience is invaluable to OLABers, according to Joe Kiley '61, a former business owner and member of the Carmel Rotary Club, one of the generous organizations that supports the 43-year-old program and allows participants to attend free of charge.
"I wish that I had a program like this when I was their age," said Kiley, who has been involved with OLAB for eight years. "These kids will carry this with them for the rest of their lives. I've been so impressed with how smart they are, every year they just get better."
The program, which began Sunday and wraps up with Commencement at 2:00 p.m. Saturday, is generously supported by its signature sponsor, the Goodrich Trust, along with the Scientech Foundation, Carmel Rotary, Crawfordsville Kiwanis, Nucor Steel, James Price, and Wabash College.
More News
---
---
Photo Galleries

2015 OLAB Negotiations