IAS Grant Aids Brain Research
by Richard Paige • June 22, 2015

Share:
Wabash College assistant biology professor Heidi Walsh was awarded an Indiana Academy of Science grant to aid in the study of how peripheral factors of obesity effect the brain.
The grant provides Walsh and three students with laboratory and research materials in the pursuit of preliminary data in the study of cellular mechanisms in the hypothalamus that link obesity and infertility.
One of the nation's most pressing health problems, obesity directly effects the brain. In an obese person, there are factors circulating that cause inflammation and different forms of stress at the cellular level. Those effects can lead to changes in eating habits, which exacerbates the problem of obesity. The main goal of this project is to understand how peripheral factors that arise during obesity are affecting the brain.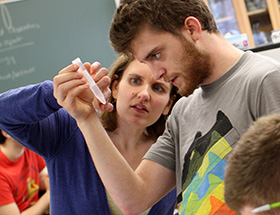 "We're zooming in at a real cellular level at how these cells respond to changes in the body during obesity," said Walsh, the Byron K. Trippet Assistant Professor of Biology. "The students will be exposing neuronal cells to different types of cellular stress and inflammation and then measuring hormone production in response to the stress. The generosity of the IAS allows our students to research how these cellular stressors that are generated during obesity affect a particular group of cells in the brain that control reproduction."
The student involvement is key to the multifaceted project, as each student is responsible for work that intersects with other parts of the project, providing a broader focus by working on different parts of the research simultaneously. Further, the initial work in the lab could help students develop research presentations in the future.
"This helps the students get some hands-on experience," said Walsh. "They have their own research project and that can be life changing for students to take ownership of that and see every single step through. I want them to synthesize their work into some type of presentation they can share with students here at Wabash and even at conferences."
The project is scheduled to run through the 2015-16 academic year.