Campus Readies for Commencement
by Richard Paige • May 12, 2015

Share:
Click here for a full 2015 Commencement schedule
Academic regalia will be on display and tassels will turn for graduates as Wabash College celebrates its 177th Commencement Exercises on Sunday, May 17, at 2:30 p.m. on the College Mall. The ceremony will be streamed live at www.wabash.edu/live
President Gregory D. Hess will lead the procession and will ring out the Class of 2015. Nearly 230 men are scheduled to receive their sheepskin diplomas in the ceremony.
In the event of rain, Sunday's Commencement Exercises will be held in Chadwick Court of the Allen Athletics and Recreation Center. Due to the number of graduates in this year's class, each senior will receive five tickets for the ceremony should it be moved indoors. Overflow viewing will be available in Salter Hall and Korb Classroom in the Fine Arts Center.
Two graduating seniors, William Richard McManus and Joseph Matthew Mount, will be the featured speakers at the Commencement in keeping with a long-standing Wabash tradition.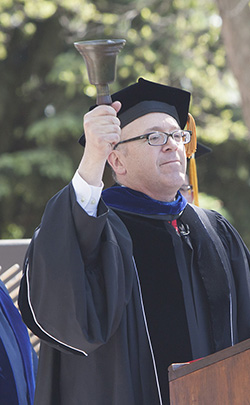 Mr. McManus majored in biology and minored in chemistry. The Honor Scholar recipient and George Lewis Mackintosh Fellow was initiated into Phi Beta Kappa as a junior and received Distinction on Comprehensive Exams. McManus received the Ernest G. Carscallen Prize in Biology, the Lewis Salter Memorial Award, the Eliot Churchill Williams Undergraduate Prize in Biology, and the Fertig Prize in Freshman Writing. In addition to serving as vice president of the Global Health Initiative, he has been active in the Biology and Pre-Health Societies, and is a member of Beta Beta Beta, Biology National Honor Society; Sigma Tau Delta, English National Honor Society; and the Newman Center. McManus founded the Great Books Society and was a Writing Center tutor. He carried out independent study research in the labs of Dr. David Polley and Dr. Wally Novak and was named an Amgen Scholar conducting biomedical research at Washington University in St. Louis. In addition to his numerous achievements in the classroom, the Indianapolis Alumni Student-Athlete Award winner and NCAA Student-Athlete Advisory Committee member is a three-time NCAA Academic All-American in Cross Country, competed four times at the NCAA Cross Country National Championships, received the Jeremy Robert Wright Award for excellence in leadership and character, and was twice awarded the Birk Badge of Honor for most dedicated runner. He is a four-year varsity letterwinner in both cross country and track. McManus received the Scholar-Athlete Award, the 2014 Indoor MVP and NCAC Outstanding Distance Athlete in Track and Field. He competed on 10 NCAC Championship Teams and two NCAA Regional Champions. McManus is a native of Ft. Wayne, Indiana and is the son of Dr. Michael and Mary McManus.
Mr. Mount double majored in Theater and Religion and achieved Distinction on Comprehensive Examinations. The Phi Beta Kappa member and Presidents Scholarship recipient is active in the Tau Kappa Epsilon Fraternity having held various leadership positions, and 'shOUT, serving as president in 2014. Mount was a regular in theater productions at Wabash, having roles in Endgame, Lend Me a Tenor, The Miser, Take Me Out, Picasso at the Lapin Agile, Macbeth, Wild Oats, The Aliens, and Guys and Dolls. In addition, he wrote I, Nephi; A Gay Mormon's Survival Guide, an autobiographical play for his senior capstone. Mount was a contributor to The Bachelor and assisted the Psychology Department as an actor. He received the Eminie C. Leonardis Theater History Award and the Ryan Champion Theater Performance Award in 2013, and the Dean Stephens Award, the John N. Mills Prize in Religion, the Ryan Champion Theater Performance Award, and the Phi Beta Kappa Prize in 2014. Mount is the son of Matthew and Laurel Mount of Louisville, Kentucky.
The College will award honorary degrees to John E. Fischer H'70, Emeritus Professor of Classics, and Roger W. Ferguson, Jr., President and CEO of TIAA-CREF, during the ceremony.
Friday's events are highlighted by this year's Senior Cookout. The National Association of Wabash Men will host members of the Class of 2015 at 6:30 p.m. at the Caleb Mills House.
On Saturday, May 16, 28 students will be inducted into the Wabash chapter of Phi Beta Kappa, the nation's oldest honorary society. To be inducted this year are seniors Emiliano Aguilar, Jr. (East Chicago, IN), Andrew Baker (Bristol, IN), Stephen Batchelder (Orland, CA), Jacob Burnett (Mishawaka, IN), Daoming Che (Zibo, China), William Combs (Crawfordsville, IN), Andrew Dettmer (Auburn, IN), William Folsom (Lincoln, NE), Ryan Guerrettaz (Newburgh, IN), David Gunderman (Zionsville, IN), Tyler Hardcastle (Carmel, IN), Wesley Hauser (DeSoto, MO), Lu Hong (Lanzhou, China), Ryan Horner (Greentown, IN), Steven Magura (Valparaiso, IN), Juan Meza (Mission, TX), Joseph Mount (Louisville, KY), Khuong Nguyen (Ho Chi Minh City, Vietnam), Tyler Owensby (Brownsburg, IN), Steven Paris (Ft. Wayne, IN), Jia Qi (Tangshan, China), Donald Smith (Plymouth, IN), Jingwei Song (Shanghai, China), Xidian Sun (Shenyan, China), John Walker (Wingate, IN), Yunan Wu (Dengfeng, China), and Lucas Zromkoski (Valparaiso, IN).
Those seniors join McManus, who was elected as a junior last year. Junior Adam Alexander (Yorktown, IN) will also be inducted.
Other Saturday events include the Senior Art Exhibition from 8 a.m.-5 p.m. in the Eric Dean Gallery and the President's Reception honoring the Class of and their families at the Elston Homestead from 4-5:30 p.m.
Commencement Day at Wabash begins at 11 a.m. with the Baccalaureate Service, which will be held in Pioneer Chapel. Stephen S. Bowen '68 will give the morning prayers, and Dr. Allan Boesak will give the Baccalaureate sermon. Dr. Boesak is the Desmond Tutu Chair of Peace, Global Justice, and Reconciliation Studies at the Christian Theological Seminary and Butler University.
President Hess will continue a tradition when he guides the graduates through the Senior Arch at the conclusion of the ceremony.
Following the ceremony, there will be a reception for the Class of 2015 at 3:30 p.m. near the Frank Hugh Sparks Center west portico (between Morris and Wolcott Halls).
A Commencement Podcast

This week's edition of the "Wabash On My Mind" podcast talks with 2015 Commencement speakers Billy McManus and Joe Mount. Topics include their Wabash experiences, favorite memories, and preparing for Sunday's speeches. Just click the play button at the bottom of the graphic to enjoy an audio preview.