The Beaux' Stratagem Opens Wednesday
by Jim Amidon • April 21, 2015

Share:
Wabash College will say farewell to a pair of beloved performers and welcome new talent when the Theater Department's production of The Beaux' Stratagem opens Wednesday in the Ball Theater of the Fine Arts Center.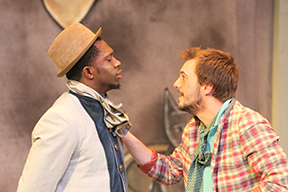 Talented actors Patrick Kvachkoff and A.J. Akinribade take to the boards for the final time in this classic Restoration Comedy, which runs through Saturday at 8:00 p.m. each evening.
The Beaux' Stratagem was originally written by George Farquhar in 1707, but according to director Dwight Watson, it has been freely adapted to make it current. "This is a modern adaptation that is full of comic spirit, lively imaginings, and surprise," Watson said. "Although it is set in Lichfield, England (just outside of London), there is a swagger about this play and its leading characters that just seems right for our student body and the Wabash stage."
The story follows two young men as they travel the countryside in search of women and money. Freshman Zach Anderson plays Jack Archer, a smooth-talking lady's man, while junior Donovan Whitney plays his sidekick, Tom Aimwell. The duo take turns playing the part of master and servant as they move from town to town, wooing wealthy young women.
The women in the sights of Archer and Aimwell include a pair of Crawfordsville High School students. Sammie Amidon plays Cherry, the innkeeper's daughter, and Elizabeth Hutson plays Dorinda. Brea Carlson plays the very proper (and very unhappy) woman of the manor, Mrs. Kate Sullen.
Kvachkoff closes out a brilliant theatrical career at Wabash as the drunken Squire Sullen, who hates his wife Kate and spends his life as a pub sloth. Anderson, playing Archer, does his best to split up the sullen Sullens in a wild comedy full of laughs.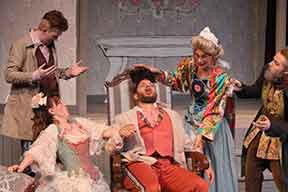 "The characters in the play are hilarious and often devilish, and it has been great fun watching our Wabash actors bring Farquhar's characters to life," said Watson. "There is a wide range of acting experience on the stage, and yet the spirit of ensemble is very much alive in this group."
Bringing high energy and comic relief are veteran performers Jamie Watson as Lady Bountiful (Squire Sullen's mother) and her faithful surgical assistant, Scrub, played by Nathan Muha. (Don't miss Dramaturg Noah Eppler's interview of Jamie Watson.)
Akinribade, the hard-hitting all-conference linebacker of Wabash's football team, also wraps up his time on the Wabash stage as Sir Charles Freeman, Kate Sullen's brother, who steps in near the end of the play to court Cherry and bring about a happy ending for nearly all in the cast.
"I have nothing but respect for our seniors, AJ and Patrick," Watson said. "They have provided some great moments in theater the past four years, and they will be missed next year."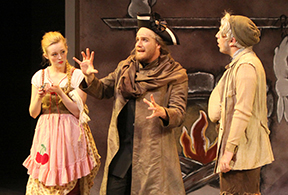 The play's third senior, Zach Boston, makes his stage debut in a hilarious bit part. "Zach Boston shines — I wish we had gotten to him sooner," said Watson.
Andrea Bear designed the set and costumes, while Cody Grady managed set construction and technical direction. The stage manager is Abigail Tomlin.
Tickets are free and can be reserved by emailing boxoffice@wabash.edu or phoning 765-361-6411.
The cast of The Beaux' Stratagem includes: A.J. Akinribade as Sir Charles Freeman; Sammie Amidon as Cherry; Zachary Anderson as Jack Archer; Zach Boston as A Lady; Brea Carlson as Mrs. Kate Sullen; James Cherry as Foigard; A.J. Clark as Hounslow; Natalie Coronado as A Country Woman; Jared Cottingham as Boniface; Noah Eppler as Gloss; Elizabeth Hutson as Dorinda; Patrick Kvachkoff as Sullen; Griffin Levy as Daniel; Daniel McCarthy as Bagshot; Nathan Muha as Scrub; Aaron Stewart-Curet as Servant; and Donovan Whitney as Tom Aimwell.
More News
---
---
Photo Galleries

The Beaux' Stratagem at Wabash College